"I believe that even if we go to the peace talks just before the liberation of Al Hudaydah it will not be useful at all because the Houthis until now are not willing, they do not believe in peace because they have opportunities to survive on the ground," Alkamaly said.
READ MORE: Saudi-Led Coalition Announces Large-Scale Offensive on Hodeidah Port in Yemen 
The Yemeni official added that the liberation of Hodeidah would serve as a stimulus for Houthis to come to the negotiating table.
"The Houthis, unfortunately, are not prepared, ready and willing for peace right now but any advancement on the ground will help to negotiate peace at the table. If we advance the military on the ground and if we liberate Al Hodeidah … I think the Houthis will be prepared to go to the peace talks," Alkamaly said.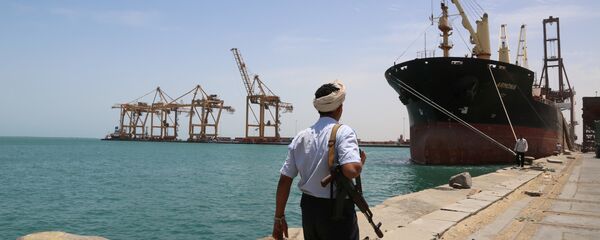 17 September 2018, 22:04 GMT
Last week, the Saudi-led coalition of Arab states announced the launch of another large-scale military offensive to liberate the embattled city of Al Hodeidah from Houthi militants.
Prior to that, on September 6, UN-mediated peace talks on Yemen were supposed to start in Geneva, but the Houthi delegation failed to arrive, accusing the Saudi-led coalition, which controls Yemeni airspace, of blocking them from traveling. UN Special Envoy for Yemen Martin Griffiths later announced that new dates for peace talks would be set.
UAE Minister of State for Foreign Affairs Anwar Gargash wrote on his official Twitter blog on Tuesday, after a meeting with Griffiths, that the United Arab Emirates would fully support UN proposals for new peace talks on Yemen.