Other questions about the effects of the testimony have also been raised, including possible ethics violations that could come back to haunt him once a less politically charitable Congress is in office, as the case may turn out to be if Democrats win seats in November.
Kavanaugh faces several accusations of sexual misconduct in his past, with one woman, Dr. Christine Blasey Ford, testifying before Congress last Thursday that Kavanaugh attempted to rape her during a high school party in 1982. Kavanaugh was also grilled by US senators that day, responding with what human rights and labor lawyer Dan Kovalik described to Radio Sputnik's Loud & Clear Monday as "a temper tantrum."
​Kovalik noted the existence of a danger that the FBI is on a such a short leash and "may be so single-focused on the one allegation by Dr. Ford that they may not take into account" other testimonies that undermine other parts of Kavanaugh's story in important ways, such as fellow Yale students who have pointed to his tendency toward violence when drunk. His idiosyncratic claims about the definitions of terms have had a similar effect.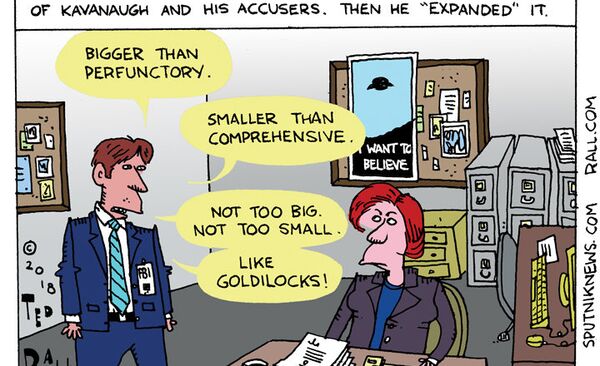 1 October 2018, 23:19 GMT
The lawyer told hosts John Kiriakou and Brian Becker that at least part of Kavanaugh's belligerence during his Thursday testimony before the Senate Judiciary Committee was a calculated ploy designed by Trump administration officials, who figured Kavanaugh would appeal to US President Donald Trump's base "if he came out swinging."
"This is a guy who has never been confronted with his own failings, that has skated through life based on his family's position in the world — based on the fact, for example, that his grandfather went to Yale, though he strongly suggested that he didn't have family ties to Yale. He's a guy who was groomed his whole life for a position of power in this society, and to have someone come forward and accuse him of any type of wrongdoing was not something he was used to. And yes, he had a temper tantrum in response to this."
"The primary [problem]," Kovalik observed, "being whether he assaulted women, and then, of course, whether he lied about assaulting women."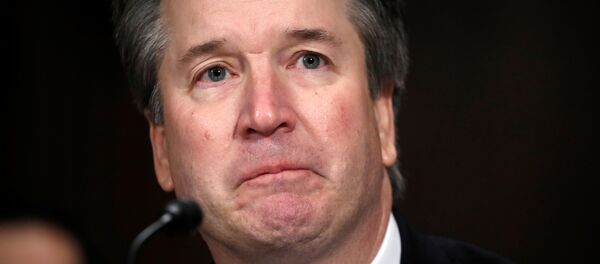 1 October 2018, 21:31 GMT
In addition to questions about his past actions, Kavanaugh's partisan rhetoric during hours of testimony before the Senate Judiciary Committee — railing against the Clintons and "left-wing opposition groups" — raises questions about his ability to be nonpartisan, whether he stays in US Circuit Court or advances to the Supreme Court.
BuzzFeed News noted Monday that under the aegis of a liberal Congress — which might come about as soon as next month's elections — an Associate Justice Kavanaugh could be asked to recuse himself from rulings involving liberal groups or issues. But the publication added that past recusals have been difficult to obtain, citing the occasion when Justice Antonin Scalia refused to recuse himself from Cheney v. United States District Court in 2004 based on his personal friendship with then-US Vice President Dick Cheney.
In addition, although Trump gave the FBI strict orders to conduct a limited-scope investigation for one week, a Democratic Congress would be free to pursue much more exhaustive investigations of Kavanaugh, either into Ford's or others' sexual assault allegations or into any of the plethora of subjects brought up by Kavanaugh's congressional testimony. Some Democratic strategists have also proposed impeaching Kavanaugh.