On Thursday, senior US government officials including Vice President Mike Pence accused China of interfering in American domestic affairs at levels never before seen to win the ongoing trade war and determine the outcome of elections. Pence during a speech at the Hudson Institute said Chinese security agencies are behind the major theft of US technological breakthroughs including military blueprints.
"The seriousness of the allegations [by Pence] is not matched by many details," Schirach said on Thursday. "Pence cites experts who claim that this is a major effort. But then we are left to guess about what actually happened."
READ MORE: US Navy Wants Major War Exercise in South China Sea — Report
It is not clear why the Trump administration decided to pick this moment to have Pence openly attack China for alleged interference in the US political process, while repeating accusations about Chinese industrial espionage and intellectual property theft, Schirach observed.
"Pence paints a very dark picture. But what is the end game? It is an inescapable reality that the US and China are now partners in what is probably the most important bilateral relationship in the world. It would appear that the Trump administration would like somehow to end it," he said.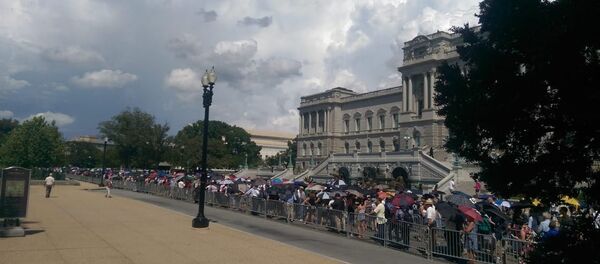 3 October 2018, 09:15 GMT
However, he added, the Trump administration can only damage the relationship — they cannot end it given its scope and size go way beyond what Washington may control or mandate.
Schirach acknowledged that Beijing might have sought to boost its influence and image through the social media, but he pointed out that such efforts had to be placed in their appropriate context.
"At this point we know that it is very easy to disguise influencing campaigns and propaganda behind seemingly innocuous Facebook or Twitter accounts. It is very easy and it is very cheap," he said.
READ MORE: China Condemns US for 'Provocative' Actions in South China Sea
However, it was not at all clear that such efforts, however sophisticated, could demonstrably sway public opinion in any meaningful way, Schirach cautioned.
China's foreign ministry has rejected allegations of meddling in US internal affairs.
Schirach is also the president of the Global Policy Institute, a professor at BAU International University, and a former USAID consultant.