Zvezda, the official television channel of the Russian Defense Ministry, has aired new footage of the S-300 systems' delivery, showing equipment arriving under cover of night at the Hmeymim Airbase in Latakia province aboard a massive Antonov An-124 strategic airlift plane.
The S-300 system arrived in Syria on October 2, just over two weeks after Syrian air defenses accidentally shot down a Russian Il-20 with 15 airmen onboard while responding to an Israeli air attack on September 17. Russia's Defense Ministry accused Israel of deliberately using the Russian plane as a shield, and of providing it insufficient warning to make it out of harm's way.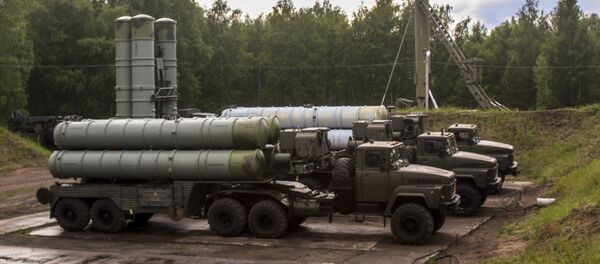 7 October 2018, 09:49 GMT
In addition to the S-300s, Syria is now the only other country in the world with Russia's advanced friend/foe identification system, with Moscow also providing Damascus with assistance in the radio-electronic suppression of satellite navigation, airborne radars and combat communications systems of any aircraft attempting to attack targets in Syria.
Israel continues to blame Syria for the downed Il-20, and has said that it has no plans to stop attacking what it says are Iranian targets in Syria. The Israeli Air Force has flown 200 missions over Syria in the last year and a half, but has not done so since September 17. Russian air defense forces are expected to provide training assistance to their Syrian counterparts over the next three months.