A cabinet meeting will be held ahead of May's trip to Brussels, slated to start on October 17, where she hopes to outline a plan for a compromise deal on the Irish border.
Theresa May will reportedly discuss an obligation to keep the country in an effective customs union with the European Union following Brexit, but having "a clear process" for steps to end it later.
The cabinet meeting will take place on October 16, the Times reported.
A source in the British government has said that ministers feared they could be bounced into accepting several potential changes to the customs arrangement and the areas of EU law that the UK must follow after Brexit. The Times reports that some ministers, including Home Secretary Jeremy Hunt, Environment Secretary Michael Gove and Brexit Minister Dominic Raab might refuse to accept the proposed changes.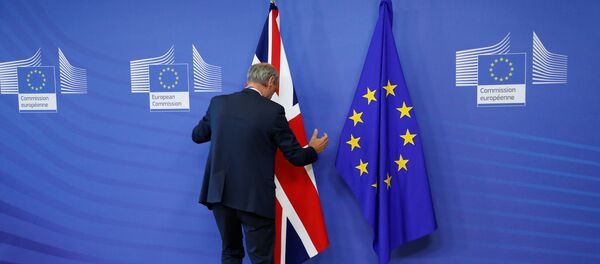 9 October 2018, 23:12 GMT
Up to now, these ministers have supported May and her Chequers plan, but further concessions to the EU might become a red line for them, the newspaper speculates. The ministers are likely to support a Canadian scenario, which implies that the UK would retain the freedom of internal and trade policy and stop free movement of labor.
One of the opponents to the Chequers plan, former Brexit Minister David Davis, has reportedly sent a letter to the members of the ruling Conservative Party, insisting that the Cabinet is trying to manipulate them, pretending there are only two options on the table: either the Chequers plan, or a no-deal Brexit. In his letter, Davis reportedly warned the Tories that supporting May and the Chequers plan might cost them re-election in the next vote.
However, later on Tuesday, ITV reported that the PM's Europe Advisor, Oliver Robbins, managed to achieve substantial progress with EU's chief Brexit negotiator, Michel Barnier, which might be an indirect confirmation of The Times report, as since the UK and Northern Ireland would remain within the Customs Union, there would be no obstacles preventing the free movement of goods and labor between the two Irelands.
In June 2016, the United Kingdom voted to leave the European Union. Although Brexit is scheduled for late March 2019, London and Brussels still cannot agree on a number of key issues, including the Irish border and customs arrangements, making a no-deal scenario a possibility.