In a statement published by The Telegraph, former UK Foreign Secretary Boris Jonson specifically focused on Brexit, urging the government to resist making concessions to Brussels, given that the country has been "ruthlessly pushed around by the EU for more than two years."
Johnson warned that the UK is currently entering "the moment of crisis" and that "matters cannot go on as they are."
He likened the European Commission to "some chess player" who is "triumphantly forking our king and our queen and offering the UK government what appears to be a binary choice."
READ MORE: Johnson in His Resignation Paper: Brexit Dream Dying, Suffocated by Self-Doubt
"It is between treating Northern Ireland as an economic colony of the EU, or treating the whole of the UK as such a colony. It is a choice between protecting the Union or saving Brexit. It is an entirely false choice. It must be rejected, and it must be rejected now," he underscored.
In this vein, he warned against a scenario where Northern Ireland remains forever a part of the EU customs union and single market, which Johnson said "would mean customs checks between Great Britain and Northern Ireland."
"If we were to allow this economic annexation of Northern Ireland by a foreign power, we would be treating Northern Irish MPs as somehow second class legislators, deprived now and forever of any say in many of the laws operational in their own constituencies," Johnson pointed out.
READ MORE: Boris Johnson Calls for Global Britain to Shape Post-Brexit World
He berated the UK government for approving the so-called Northern Irish "backstop," which he said turned into something that frustrates Brexit "because the alternative is even worse."
"Under the proposals now being put forward by the UK government – the Chequers plan – the whole of the UK would effectively remain in the customs union and single market. This is a catastrophe for Brexit, and makes a mockery of the project," Johnson underlined.
He criticized the British government's project, which stipulates establishing a special border regime on the Irish border after Brexit. Such a scenario will not allow Northern Ireland to participate in clinching free trade deals between the UK and other countries, according to Johnson.
READ MORE: Johnson to Keep Slamming May's Brexit Plan, Doesn't Want to Oust PM, Allies Say
"It is not just that we will be unable to do our own free trade deals. We will have them done for us, on terms that we may or may not like. […] It is one of the many disgraceful features of the Chequers proposals that if and when such deals are done, UK officials will not be involved," he underscored.
Johnson concluded by calling for scrapping the Northern Irish backstop, "and simply agree what is manifestly the case – that no one wants any new physical checks at the northern Irish border, nor is there any need for them."
READ MORE: Irish Government Warns '50 Days' to Save Brexit Border Negotiations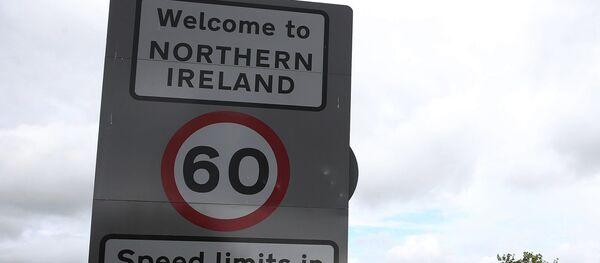 Earlier this month, British media reported that UK Prime Minister Theresa May was being challenged by Liam Fox, the international trade secretary, and Michael Gove, the environment secretary, who voiced concerns over her new backstop plan, fearing it would keep the UK in a customs union with the EU for an open-ended period of time.
In a separate development, The Telegraph earlier reported that Brussels and London had reached an agreement on the so-called backstop to make sure that no border will separate Northern Ireland from the Republic of Ireland after the UK's withdrawal from the European Union, since a temporary customs union would be in place.