There are citizens of Western European countries and other states among more than 700 hostages that kept in the city of Hajin, a military-diplomatic source reported.
Earlier, Rusian Military reported that the Daesh* terror group attacked a refugee camp in Syria's town of Al-Bahra on October 13, capturing 130 families and transporting them to Hajin, which is located in Deir ez-Zor province.
READ MORE: US-Led Coalition, Iraqi Forces Arrest Members of Key Daesh Facilitation Group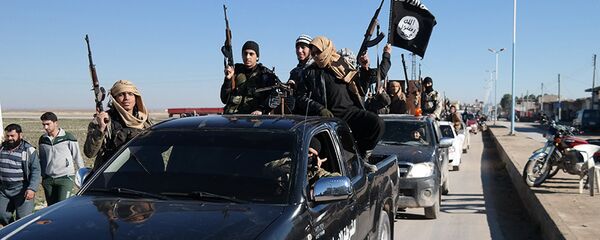 10 October 2018, 18:17 GMT
Lt. Gen. Vladimir Savchenko stressed that the abducted civilians were de-facto taken hostage and could be used by terrorists as a "human shield" to protect the militants from the possible attack by the Kurdish Syrian Democratic Forces (SDF) advancing towards the last Daesh-occupied areas on the eastern bank of the Euphrates River.
"It is worth noting that there are already more than 750 people among the hostages of Daesh in this area, including citizens of Western European countries and other states," a military diplomatic source told Sputnik on Wednesday.
The terrorists put forward ultimatums to the Kurds for the immediate release of all their supporters held by the SDF and they demand the transfer of new territories in the east of the Euphrates under their control, killing hostages every day as a lever of pressure, he noted.
"The imitation of fight against terrorists in this region of Syria has already lasted more than six months and is used by Washington to justify its illegal presence in this country," the source added.
Earlier, the Russian Center for Reconciliation in Syria also said that passive conduct by the US-led coalition's allies allowed militants to gain control over 20 kilometers (12.4 miles) of Syrian territory along the eastern bank of the Euphrates.
*Daesh (ISIL/ISIS/Islamic State) is a terrorist group banned in Russia and many other countries.