Earlier on Thursday, Russian President Vladimir Putin said Daesh* terrorists had recently begun expanding their presence on the left bank of the Euphrates river in Syria, taking nearly 700 people hostage, including citizens of the United States and European countries.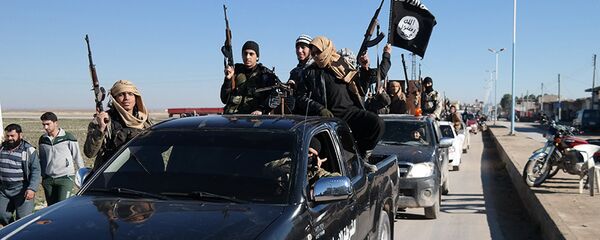 17 October 2018, 20:25 GMT
"While we have confirmed that there was an attack on an IDP camp near Deir Ez-Zor last week, we have no information supporting the large number of hostages alleged by President Putin and we are skeptical of its accuracy," Robertson said on Thursday. "We are also unaware of any US nationals located in that camp."
READ MORE: Daesh Attacks Refugee Camp in Syria, Take Hundreds Hostage — Russian Military
Robertson pointed out that the United States rejects Russian assertions the US-led coalition in Syria has failed to address the threat posed by the Islamic State and said Washington will continue to work with and through its local partners to pursue the remnants of the terror group in the Middle Euphrates River Valley.
Russia has focused its efforts exclusively on aiding the Syrian government with limited steps to address the threat posed by the Islamic State and without regard for the laws of armed conflict, civilian casualties or the government's alleged use of chemical weapons, Robertson added.
Previously, Rusian Military reported that the Daesh terror group attacked a refugee camp in Syria's town of Al-Bahra on October 13, capturing 130 families and transporting them to Hajin, which is located in Deir Ez-Zor province.
*Daesh (ISIL/ISIS/Islamic State) is a terrorist group banned in Russia and many other countries.