John Bolton, US President Donald Trump's third national security adviser, has issued a formal recommendation for withdrawal from the 1987 intermediate-range nuclear forces treaty referred to as INF, according to sources briefed on the initiative and cited by The Guardian.
Bolton reportedly said Russia has been violating the treaty by developing a new cruise missile.
Meanwhile, neither the White House, nor John Bolton has commented on the issue yet. 
The US briefed its European allies this week about the proposed move, alarming among others British officials, who view the INF as a crucial arms control instrument, as the treaty signaled the end of a menacing nuclear standoff back in the 1980's, with Europe pitting US Pershing and cruise missiles against the Soviet Union's SS-20 medium-range missiles.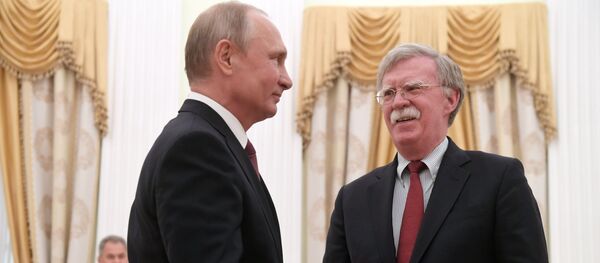 19 October 2018, 00:00 GMT
The US alleges Russia is now violating the treaty, citing the development and further deployment of a ground-launched cruise missile, known as the 9M729.
Moscow insists the missile does not violate the range restrictions stipulated by the INF and alleges in its turn that a US missile defense system deployed in Eastern Europe against a potential Iranian threat could be adapted to fire medium-range offensive missiles at Russia.
In the meantime, the Trump administration's Nuclear Posture Review, released in February, called for the US to do research on its own ground-launched medium-range missiles as a means of making Moscow fully comply with the INF. It notably didn't recommend leaving the treaty at the time.
READ MORE: US Mk-41 Systems Deployment in Romania, Poland Contradicts INF Treaty — Moscow
Bolton's meeting with his Russian counterpart, Nikolai Patrushev, in Geneva in August was expected to finalize the dialogue, but Bolton is said to have blocked it. He is due to come to Moscow next week, when he may meet Vladimir Putin, according to the Kremlin.
In remarks in Sochi on Thursday, Putin said that Russia would adopt a "no first use" policy on nuclear weapons.
"We have no concept of a preemptive strike," he told a conference. "[W]e expect to be struck by nuclear weapons, but we will not use them first," he said.