The treaty, signed in 1987 by the US and the USSR, was one of the key steps in the de-escalation of the Cold War, yet US President Donald Trump plans to tell Russian authorities that the US is planning to terminate the agreement, The New York Times reported Friday.
READ MORE: Bolton Pushing Trump to Exit Nuclear Arms Treaty With Russia — Reports
According to anonymous American officials and foreign diplomats, Trump has decided to pull out of the three-decade-old treaty due to alleged Russian violations of it and because it prevents the US from deploying new weapons to counter China's evolving intermediate-range arsenal, which Beijing has used to expand its influence in the Pacific.
The White House said that no official decision has yet been made to leave the INF Treaty, but the anonymous sources said that US National Security Adviser John Bolton will inform Russian President Vladimir Putin during a trip to Moscow next week that the Washington will leave the treaty. If the US does exit the INF Treaty, it will be the first major arms control treaty dismantled by Trump.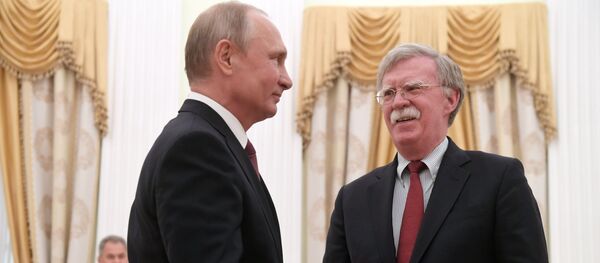 19 October 2018, 00:00 GMT
The US has accused Russia of violating the INF Treaty for the last four years. Former US President Barack Obama decided not to leave the treaty, though he did criticize Russia for deploying tactical nuclear weapons, which the US says Russia has used to intimidate former Soviet states that have grown closer to Western governments.
Bolton recommended Trump withdraw the US from the INF Treaty, The Guardian reported Friday. The Guardian also cites anonymous former US officials who say Bolton is blocking talks on extending the 2010 New START (Strategic Arms Reduction) treaty between the US and Russia, which limited the deployment of strategic nuclear warheads and their delivery systems.
"The US has started to brief allies with the possibility of withdrawal [from the INF Treaty]. But I don't believe there has been any kind of interagency process in the administration," said Jon Wolfsthal, a former senior director for non-proliferation and arms control at the US National Security Council (NSC).
Hans Kristensen, director of the Nuclear Information Project at the Federation of the American Sciences, said the NSC has decided the US should withdraw from the INF treaty, but added that Trump had not yet made a final decision on the matter, The Guardian reported.