US First Lady Melania Trump was left both amused and appalled by the scandalous claims about her relationship with Donald Trump contained in a new book by Nina Burleigh and allegedly provided by the Melania's "childhood friend", Hollywood Life reports citing a source close to the first lady.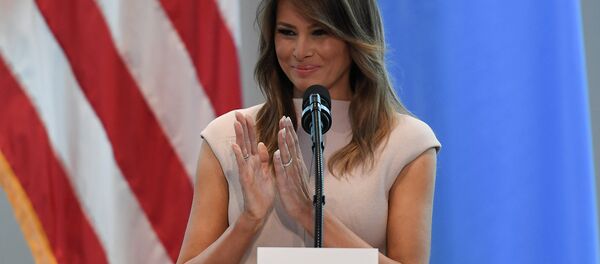 13 October 2018, 06:19 GMT
The book, titled "Golden Handcuffs: The Secret History of Trump's Women", claims, among other things, that Melania played the role of "sex kitten Slovenian" in her relationship with Trump, and that she married him because she allegedly sought protection and a "father figure."
According to the source, Melania described the allegations made by the book's author as "laughable" and "appalling."
"She thinks the book it reads like a cheap romance novel from start to finish, and the writing is terrible," the source said. "She already has a father, and she loves him very much. The claim that Melania married Donald because she wanted a 'father figure' is ridiculous. And she certainly isn't his 'sex kitten' as the book claims."
FLOTUS communications director Stephanie Grisham also announced that "the claims made by anonymous sources in the book are not true," stating that the book's author "didn't bother to reach out to fact check anything that she wrote."