"The administration is also taking appropriate actions now given the information currently available to the United States," Pompeo added. 
"We have identified at least some of the individuals responsible including those in the intelligence services, the royal court, the Foreign Ministry and other Saudi ministries who we suspect to have been involved in Mr. Khashoggi's death. We are taking appropriate actions which include revoking visas," visa restrictions and other measures, the secretary said.
A US State Department spokesperson announced shortly after Pompeo's speech that the US had revoked the visas of or made ineligible for visas 21 Saudi nationals over Kashoggi's death. 
Pompeo went on to note that the State Department is working with the Department of Treasury to "review the applicability of global Magnitsky sanctions to those individuals," vowing that the aforementioned penalties "will not be the last word on this matter from the United States; we will continue to explore additional measures to hold those responsible accountable."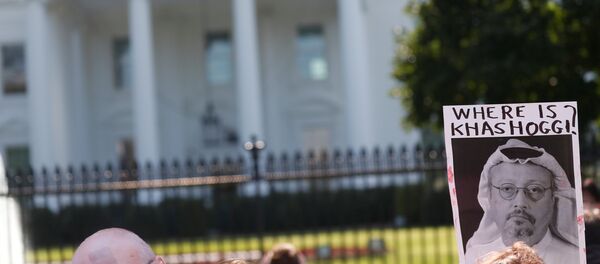 23 October 2018, 20:26 GMT
He called the murder of Khashoggi, a Washington Post columnist, "ruthless," characterizing it as the silencing of the press before noting the US' continued "strong partnership" with the Kingdom of Saudi Arabia.
Khashoggi, a Saudi citizen and US resident, was killed on October 2 after entering the Saudi consulate in Istanbul, Turkey. For most of his life, Khashoggi was known as a pro-Saudi writer. That was until he fell out of favor with the crown prince Mohammad bin Salman when the young leader consolidated power and became the heir to the throne last year. As-yet-unverified reports out of Turkey hold that Khashoggi was dismembered with a bone saw by a team of assassins some claim were working at the direction of bin Salman. Saudi Arabia gave a belated admission of the killing, claiming that Khashoggi was slain after he tried to fight some 18 men inside the consulate. The whereabouts of Khashoggi's remains are unknown.