"They had a very bad original concept. It was carried out poorly, and the cover-up was one of the worst in the history of cover-ups. Very simple. Bad deal, should have never been thought of." Trump added that he will "ultimately" leave the US response to Khashoggi's killing up to Congress.
However, Trump has stressed that he wants to keep the arms deal with Saudi Arabia despite lawmakers' calls for blocking it. He added that it's a very competitive market, and Russia and China would love to take over the Saudi military deal. Trump also said Turkish President Recep Tayyip Erdogan was tough on Saudi Arabia, following the Turkish leader's remarks of "ferocious" planned murder.
READ MORE: Saudi Deputy Intel Chief Ordered Resident Spy to Kill Khashoggi — Turkish Media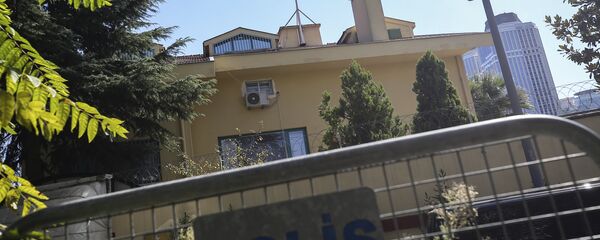 23 October 2018, 19:04 GMT
Khashoggi, known for his criticism of Saudi policies, was working as a columnist for The Washington Post. The journalist was last seen entering the Saudi consulate in Istanbul on October 2.
Following more than two weeks of denials, Saudi Arabia admitted on Friday that the journalist had been killed in a brawl inside the consulate. According to Riyadh, 18 people have been arrested over their involvement in the incident. Turkey is conducting a separate investigation into the journalist's death.
Erdogan said Tuesday that the Vienna Convention on Consular Relation would most likely be laid on the table in the light of the murder of Saudi journalist. He stressed that the consular immunity, provided under the Vienna Convention, could not cover up for such a hideous crime.
READ MORE: Pence Confirms CIA Director in Turkey to Review Evidence in Khashoggi Murder
US media reported earlier this month that US intelligence agencies had intercepted Saudi officials' conversations proving that the Saudi crown prince had ordered an operation to detain Khashoggi, a US resident.
Saudi Foreign Minister Adel Al Jubeir pledged earlier on Tuesday that the kingdom would take all the necessary measures to ensure that incidents similar to the murder of  Jamal Khashoggi would never repeat.