Addressing the Turkish Parliament in Ankara, President Recep Tayip Erdogan stressed that there were strong signs that the killing of Saudi journalist Jamal Khashoggi was planned in advance and that he was murdered in a "savage way".
According to the Turkish leader, he didn't doubt Saudi King Salman's sincerity in light of the killing, but told him that the Saudi consul in Istanbul was incompetent and that he was forced to step down from the post and return to his country.
READ MORE: US Congress Urges Intel Chief to Disclose Intercepts of Saudi Khashoggi Plot
Erdogan said that Khashoggi's body was nowhere to be found, contradicting the account of Patriotic Party (VATAN) leader Dogu Perincek, who claimed earlier in the day that the body of Khashoggi was found in a well in a garden at the residence of the Saudi consul general. Erdogan insisted, given that the murder took place in Istanbul, that the suspects should stand trial in the Turkish capital.
"This incident happened in Istanbul and we have the responsibility, so as those in the position of responsibility it is our right to question this. As the fog slowly lifts, other countries have taken action as well, and we in return have stated that we will not remain silent about this murder and that we will take every step required by our conscience and the law."
The president added that the names of the 18 people arrested in Saudi Arabia in connection with the murder match Turkish intelligence on the matter. "These developments are, of course, very significant as an official admittance of the murder," he pointed out.
Riyadh's explanations that Khashoggi was killed in a "rogue operation" by security and intelligence members, he indicated, will satisfy neither Ankara nor the international community.
He noted that the case will likely be considered within the framework of the Vienna Convention on Consular Relations. "Of course, because they have diplomatic immunity, as per the Vienna Convention, which is a matter of discussion now, [no action was taken against Saudi diplomatic staff]. Mogherini has made some statements pertaining to this recently. The Vienna Convention will most likely be laid on the table," Erdogan told the parliament.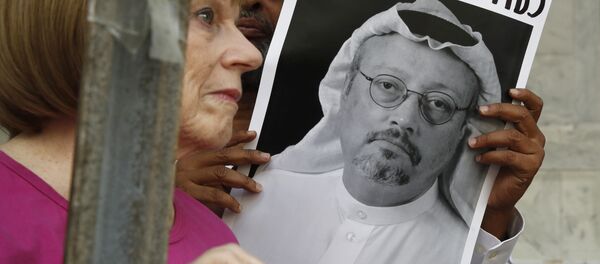 23 October 2018, 06:14 GMT
Jamal Khashoggi, a Saudi national, was a well-known critic of his country's regime, and fled Saudi Arabia in 2017. The Washington Post newspaper columnist was last seen on October 2 entering the Saudi consulate in Istanbul, where he went to receive the documents he needed to remarry.
Following more than two weeks of denials, Saudi Arabia admitted on Friday via state television that the journalist had been killed in a fight inside the consulate. Saudi authorities have detained 18 individuals in connection with the case, and dismissed six senior officials over the incident, including intelligence chief Ahmad Assiri and Saud al-Qahtani, a senior aid to the crown prince.