The killing of a critic like Jamal Khashoggi is something that must "never happen again," Saudi Arabia's Foreign Minister Adel al-Jubeir told reporters as he met with his Indonesian counterpart Retno Marsudi in Jakarta on Tuesday.
A joint Turkish-Saudi team of investigators has "uncovered evidence of a murder," al-Jubeir remarked, pledging a "thorough and complete" probe into Khashoggi's death.
"I express the commitment (of the government)…to see to it that the investigation is thorough and complete and that the truth is revealed and those responsible will be held to account," he said, as quoted by AFP. "And that mechanism and procedures are put in place to ensure that something like this can never happen again."
Additionally, Saudi Energy Minister Khalid Falih noted at an investment forum in Riyadh on Tuesday that Khashoggi's murder had provoked a crisis in the country. "We are going through a crisis of sorts due to the very regrettable incident that took place in Turkey. Nobody in the Kingdom can justify or explain it. From the leadership we are upset about what has happened, and, of course, the King has made it clear that there would be investigations and justice," Falih stated.
Turkish President Erdogan is expected to go into detail about the investigation into Khashoggi's death later on Tuesday and reveal what he has called the "naked truth."
On Monday, CNN published surveillance footage which is said to feature a "body double," who left the Saudi consulate after Khashoggi's killing. The US network maintained, citing Turkish investigators who are looking into the case, that this man was a member of an alleged 15-man hit squad deployed to cover up the purported killing and trick everyone into thinking that the reporter had left the consulate unharmed.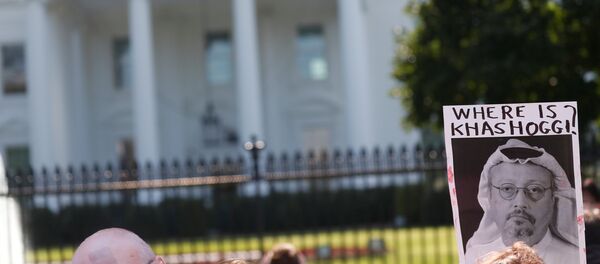 23 October 2018, 02:54 GMT
Jamal Khashoggi, known for his criticism of Saudi policies, has recently been working as a columnist for The Washington Post. He disappeared on October 2 in Istanbul and was last seen entering the consulate, where he went to receive papers he needed to remarry. Following more than two weeks of denials, Saudi Arabia admitted on Friday via state television that the journalist had been killed in a fight inside the consulate. Al-Jubeir called the incident a "terrible mistake," stressing that Riyadh was determined to "uncover every stone" and to "find out all the facts." Saudi authorities have detained 18 individuals in connection with the case, and dismissed six senior officials over the incident, including intelligence chief Ahmad Assiri and Saud al-Qahtani, a senior aid to the crown prince.