According to the broadcaster, the police found two suitcases with personal possessions allegedly belonging to the journalist, a computer and documents. Service dogs were involved in the search.
The police completed a preliminary inspection of the car and intend to continue more detailed searches on Wednesday.

23 October 2018, 15:03 GMT
On Monday, Turkish media reported that a car was found in the Sultangazi district of Istanbul, which had been there for several days and was not inspected during the search of the entire Saudi consulate's motor transport over the Khashoggi case. The search of the car did not take place immediately after its discovery on Monday due to the lack of permission from the Saudi consulate.
According to media reports, the attache of the Saudi diplomatic mission drove the consulate's Mercedes E220, arriving at the parking lot on October 7, although it is usually driven by a Turkish driver. He left the car in the farthest corner of the parking lot, where it stood until October 18. That day, the attache came there in another car, took three suitcases from it, including two large ones, and put them into Mercedes, asking a parking lot employee for assistance.
READ MORE: Pence Confirms CIA Director in Turkey to Review Evidence in Khashoggi Murder
During the reloading of suitcases, a gas mask fell to the ground, which the diplomat threw into the trash bin, the media said. This aroused the suspicion of the parking lot employee, who jokingly asked whether Khashoggi's body was in these suitcases.
The Saudi diplomat laughed and replied that there was nothing like that in the suitcases, and left the scene after putting the suitcases in the car. The employee of the parking lot, having pulled a gas mask out of the trash bin, carried it to his friend's doctor who said that it was used when working with potent agents.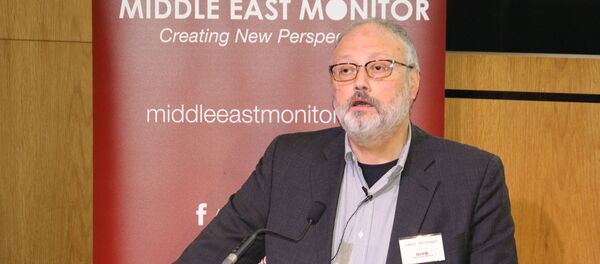 23 October 2018, 14:03 GMT
Khashoggi, known for his criticism of Saudi policies, has recently been working as a columnist for The Washington Post. The journalist was last seen entering the Saudi consulate in Istanbul on October 2.
Following more than two weeks of denials, Saudi Arabia admitted on Friday via state television that Khashoggi was killed in a brawl inside the Saudi Consulate in Istanbul on October 2. According to Riyadh, 18 people have been arrested over their involvement in the killing. Turkey is conducting a separate investigation into the journalist's death.