A painting of Jesus Christ standing in a white robe with hands extended, bearing the marks of crucifixion, was miraculously spared by a massive fire set off by a lightning strike that hit a historic church in Massachusetts destroying almost everything inside the 150-year-old building.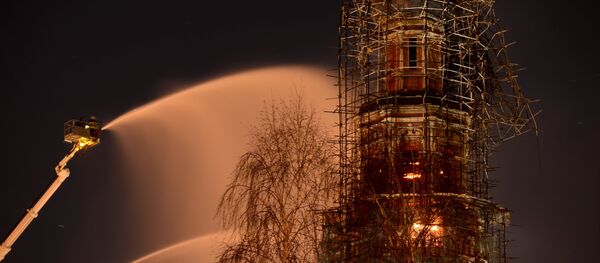 Firefighters and rescue crews working amid the rubble found the painting of Jesus virtually untouched by the flames.
The paining hung just inside the front doors of the First Baptist Church in Wakefield, Massachusetts, with only a few drops of water on it.
"It's a beautiful sign of hope and a reminder that Jesus is with us," church member Maria Kakolowski told the local Boston 25 television station.
"I am personally just taking it as a sign and a reminder that the Jesus, the Christ that we serve is still alive and even though our church building is gone, our church is here. The God that we serve is still here," she added.
Even though there has been no official cause of the fire reported so far, local residents said they saw lightning strike the church's steeple.
The fire happened amid powerful thunderstorms that rolled through the Greater Boston area.
READ MORE: US Church Displays Baby Jesus in ICE Detention (PHOTOS, VIDEO)
Crews began dismantling the remnants of the historic building Wednesday morning.
According to the National Register of Historic Places, the First Baptist Church in Wakefield was built around 1872 and rebuilt in 1912 after a fire.