"Militants from Jaysh al-Izza, linked to the Jabhat al-Nusra [terrorist group, outlawed in Russia], on Sunday transported two canisters with chlorine and sarin from Ltamenah to Qalaat al-Madiq, northwest of Hama. These canisters were handed over to the Daesh-affiliated terror groups in the Idlib de-escalation zone," a source told the SANA news agency.
The demilitarized zone was agreed in September by Russian and Turkish presidents. Syria's armed opposition groups were allowed to leave the buffer zone in Syria's northwest. The Nusra Front and the Daesh terrorist groups are not part of the deal.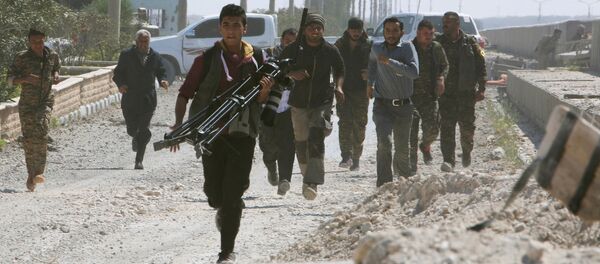 28 October 2018, 11:49 GMT
The Russian Defense Ministry's center for Syrian reconciliation warned on Monday that militants were plotting a chemical weapons attack in the Idlib buffer zone to blame it on the Syrian government. Chlorine and sarin are toxic gases that can be weaponized.
*Daesh, also known as ISIS, Islamic State is a terrorist group, banned in Russia and many other countries.