"For an investigation to be carried out free of any appearance of political considerations, the involvement of international experts, with full access to evidence and witnesses, would be highly desirable," the commissioner Michelle Bachelet said in a statement as quoted by her office.
READ MORE: Khashoggi's Fiancee Says Saudi Authorities Know Location of Journalist's Body
She stressed that "forensic examination, including an autopsy on the body of the victim, is a crucial element in any investigation into a killing."
The commissioner also urged the Saudi authorities to reveal the whereabouts of his body "without further delay or prevarication."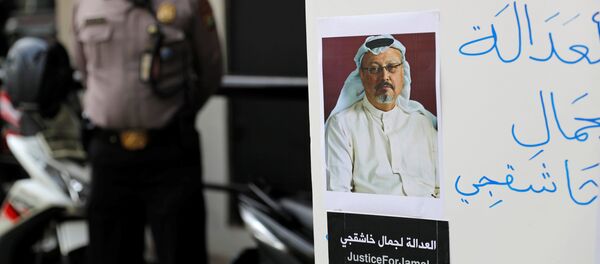 29 October 2018, 20:00 GMT
Bachelet's statement follows Turkish President's Recep Tayyip
Erdogan appeal
made earlier in the day to Saudi chief prosecutor Saud Mojeb to reveal who had ordered the murder of Saudi opposition journalist Jamal Khashoggi.
Khashoggi, a Washington Post columnist, was last seen entering the Saudi consulate in Istanbul on October 2. On October 19, after more than two weeks of denials, Saudi Arabia admitted the journalist had been killed in a brawl inside the consulate. According to Riyadh, 18 people have been arrested over their suspected involvement in the incident.
On Thursday, the Saudi prosecutor general acknowledged that the journalist's murder had been orchestrated in advance. However, Riyadh maintains that the murder had nothing to do with the Saudi Royal family, describing it as a rogue operation.