Russian Foreign Minister Sergei Lavrov has condemned Washington's decision to slap Tehran with sanctions, calling the restrictions "absolutely illegitimate" and deeply disappointing, and saying that it was "unacceptable" to hold dialogue in the language of ultimatums.
"As far as the US measures against Iran are concerned, they are absolutely illegitimate," Lavrov said on Tuesday in Madrid following a meeting with Spanish officials.
"They are being implemented in flagrant violation of the decisions of the UN Security Council, and the way in which these measures are announced and implemented cannot but cause a deep sense of disappointment. We proceed from the idea that the norms of not only international law, but of international dialogue, have not been repealed," Lavrov stressed.
"Pursuing a policy based on ultimatums and one-sided demands is hardly permissible in our times," according to the Russian foreign minister.
Pressure on SWIFT Also Unacceptable
Commenting on suspected US pressure on international financial messaging system SWIFT, which implied Monday that it would comply with US sanctions against Iranian financial institutions, Lavrov said that such pressure was also illegitimate.
"Within the framework of the participants of the Joint Comprehensive Plan of Action (JCPOA) agreement, mechanisms are being developed which will allow for the continued implementation of the provisions of this document, first of all as regards [nations'] economic ties to Iran without US participation, and this is not a simple matter," the foreign minister explained. "You can see how, using unacceptable methods, pressure has been placed on the operators of the SWIFT system. But experts are actively engaged in these issues, and they have a sufficiently stable understanding that this is possible and that such measures will be found."
On Monday, Washington followed through with plans to renew sanctions against Iran following President Trump's exit from the JCPOA Iran nuclear deal. The tough sanctions target Iran's energy, banking and sea-based transport sectors, and threaten so-called secondary sanctions against foreign companies and countries doing business with the Islamic Republic.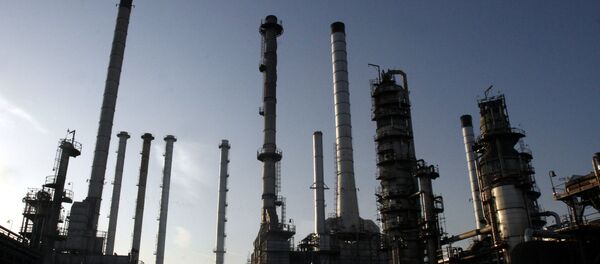 6 November 2018, 13:29 GMT
The Belgium-based SWIFT financial messaging service announced that it would be suspending some Iranian banks' access to the system, making no mention of US sanctions. Calling the move "regrettable," SWIFT's statement said it had taken the step "in the interest of the stability and integrity of the wider global financial system."
All of the JCPOA's other signatories, including Iran, Russia, China and several European powers, have made an effort to save the landmark nuclear deal and bypass the US sanctions or otherwise limit their impact. This has included the development of a Special Purpose Vehicle (SPV) on trade. China and India, the largest importers of Iranian crude oil, have resisted US secondary sanctions threats, and were granted exemptions along with five other oil-importing countries plus Taiwan.