The governments of Iran and South Korea have agreed to forgo the use of US dollar in bilateral trade and instead switch to their respective national currencies in such transactions as Washington moves to ramp up sanctions pressure against Tehran.
According to Yonhap News Agency, the two countries "will restart the won-based settlement of bilateral trade transactions" using the accounts of the Central Bank of Iran at two South Korean banks: Woori Bank and the Industrial Bank of Korea.
"It's expected to provide South Korean firms with more opportunities for the trade of non-sanctions items such as medical products, processed food and home appliances, although the exports of some products including steel and automobile parts will be affected by the sanctions," a source cited by the news agency said.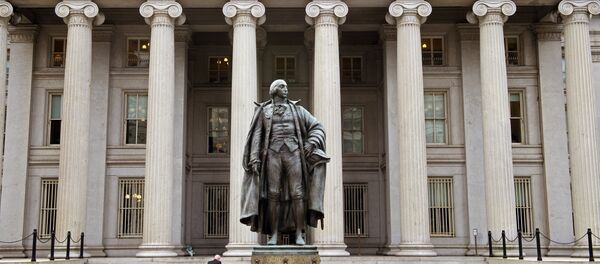 7 November 2018, 16:46 GMT
Yonhap also pointed out that South Korea, along with seven other countries, were granted waivers on the oil embargo imposed by the US against Iran, with Washington giving its tacit approval for the aforementioned countries to import a limited amount of Iranian oil without fear of reprisal.
In May, US President Donald Trump announced that the United States would withdraw from the Iran nuclear agreement, officially known as the Joint Comprehensive Plan of Action, and reimpose sanctions against Tehran that were previously lifted under the accord, including secondary restrictions.
The first round of the US sanctions was reimposed in August, while the second round, targeting over 700 Iranian individuals, entities, banks, aircraft and vessels, came into force this week.