"I'm anti-Trump, but I'm equally anti-Clinton. As you know, I'm a friend of Bernie Sanders. We are starting something together now. On the 31st of November, Bernie and I are going to launch what we call Progressive International," Varoufakis, who served as finance minister from January 2015 to July 2015 for Greece's government led by the left-wing Syriza party, said in an exclusive interview with Kiriakou, a co-host on Loud & Clear with Brian Becker.
​The Greek economist's vision is for Progressive International to be an "international political movement, with a structure… with an international New Deal," he said.
"It will be a long time coming, but we can build momentum" for the future, Varoufakis told Sputnik.
Domestically, polls have demonstrated the Vermont socialist to consistently be the most popular politician in the United States — a rare achievement among the ubiquitously despised class of elected leaders. A Morning Consult poll from last month showed that Sanders was the most popular senator in the country, with a favorability rating of 63 percent. In the same poll, Republican Senate Majority Leader Mitch McConnell scored a favorability rating of 33 percent.
Launching Progressive International with Varoufakis won't be Sanders' first foray into the international arena. The Vermonter warned last November that "the major issue of our time is the rapid movement toward international oligarchy in which a handful of billionaires own and control a significant part of the global economy," The Hill reported.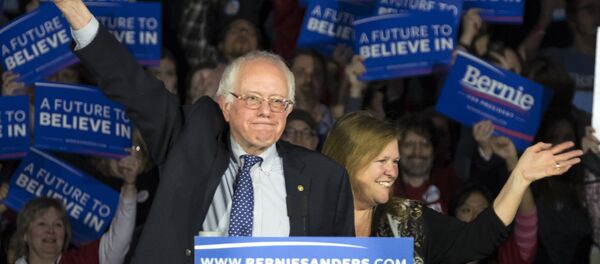 22 August 2018, 21:05 GMT
Some political scientists have showered the initiative with praise. "The Varoufakis-Sanders joint initiative is a very timely move. It needs global support especially but not exclusively from progressives around the world. While neo-fascism continues its shadow boxing with neoliberal capitalism, progressive ideas need to make their own argument at the global level and fight for ageless ideals: equality and freedom," said political scientists Alphan Telek and Seren Selvin Korkmaz in a report for Open Democracy.