While Washington is hinting at the possibility of derailing the Nord Stream 2 project, Germany is steadily increasing the consumption of Russian natural gas.
Speaking to Sputnik, Daniele Pozzati, a Munich-based Italian journalist and political observer opined that Germany would continue to maintain business relations with Moscow regardless of sanctions and changes of political climate in Berlin.
"Russo-German relations are strongly influenced by Germany's business community," he said. "Germany's business community was never able to prevent or reverse anti-Russian sanctions. But it has done a remarkable job at circumventing them. Russo-German bilateral trade is slowly returning to its 2013 level as a result. Plus you have North Stream 2 coming."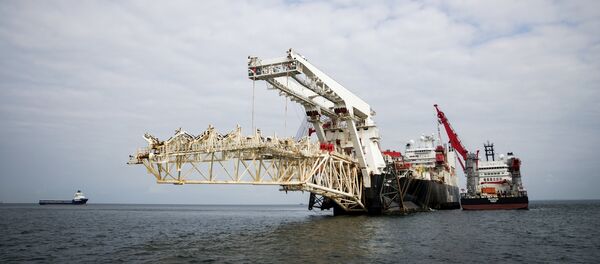 14 November 2018, 05:25 GMT
Citing a potential defeat of the ruling Christian Democratic Union of Germany (CDU) in local elections next May and the probable early resignation of German Chancellor Angela Merkel, Pozzati expressed doubts that "a new chancellor, and a freshly reshuffled government, will want, or even be in the position to, change Merkel's line" including with regard to the Russian-Germany pipeline project.
He emphasized that the German business community "won't be affected by the vote, be it regional, national or European vote."
Delivering a speech at the European Parliament on Tuesday Merkel admitted that Europe cannot do without Russian natural gas: "Europe can't be fully independent from Russian gas, but it can diversify its sources. […] We can't exclude Russia from the [gas] sources," she noted.
Washington's Threats and Berlin's Calmness
On November 13, US Energy Secretary Rick Perry said that the US "should no longer allow the Kremlin to use energy as a weapon," while speaking at a news conference in Budapest. He called upon EU member states to reject Russia's gas pipelines.
"Russia is using a pipeline project Nord stream 2 and a multi-line Turkish stream to try to solidify its control over the security and the stability of Central and Eastern Europe," Perry claimed.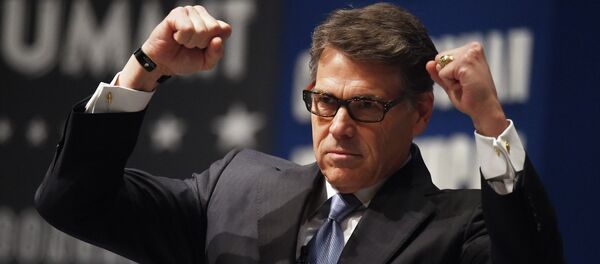 13 November 2018, 10:59 GMT
Earlier, on November 8 the energy secretary hinted that Washington could still impose sanctions related to the Nord Stream 2 project. While delivering a speech in Warsaw he underscored that "sanctions were an option that the president [Donald Trump] maintained."
It is not the first time that Washington has threatened the EU and Russia to disrupt the Russo-European gas pipeline through sanctions policies. In August 2017 the US president inked the Countering America's Adversaries Through Sanctions Act (CAATSA) which allows the Trump administration to target the endeavour.
Nevertheless, Germany is ramping up purchases of Russian fuel.
On November 7, a Gazprom delegation led by Alexey Miller, chairman of the company's management committee, met with Federal Minister for Economic Affairs and Energy of Germany Peter Altmaier. The sides admitted that Germany had been boosting the volume of purchases of Russian pipeline gas for the fourth consecutive year since 2015.
According to Gazprom's data, the energy giant delivered 48.6 billion cubic metres of gas to the German market between January 1 and November 6, 2018. "This marks an increase of 4.9 billion cubic metres from the same period of the previous year," Gazprom's official website says.
The sides also highlighted the importance and high relevance of Nord Stream 2, specifying that "offshore pipe-laying is currently underway in German territorial waters and in the exclusive economic zone of Finland."
According to Miller, 200 kilometres [124 miles] of the pipeline have already been built and "the rest will be completed."
Nord Stream 2 annual design capacity amounts to 55 billion cubic metres of gas. It is expected to become operational by the end of 2019.
The views and opinions expressed by the contributors do not necessarily reflect those of Sputnik.