"Like you, we seek an Indo-Pacific in which all nations, large and small, can prosper and thrive — secure in our sovereignty, confident in our values, and growing stronger together. We all agree that empire and aggression have no place in the Indo-Pacific," Pence underscored.
He said that the US tries to promote this vision by notably spurring private investment in infrastructure and pursuing trade which is "free, fair, and reciprocal".
The statement came a day after Pence warned that if China fails to "fundamentally change its behaviour", it will face all-out cold war with Washington and its partners. He pledged to put more economic, diplomatic and political pressure on China if Beijing fails to make "significant and concrete concessions that address not just the trade deficit that we face".
READ MORE: Western Powers Will Never Give Up US Policy in South China Sea—Research
On Tuesday, US National Security Adviser John Bolton told reporters on the sidelines of the ASEAN summit that Washington objects to Beijing's unilateral military steps in the South China Sea and that the pace of US freedom of operations trips to the disputed water areas has increased.
The remarks echoed those made by US Defence Secretary James Mattis, who reiterated last month that Washington "cannot accept the [People's Republic of China's] militarization of the South China Sea or any coercion in this region."
China has repeatedly encountered US warships in the South China Sea, with one of the latest incidents taking place in October when a Chinese Luyang-class destroyer came within 45 yards of the USS Decatur, forcing the ship to manoeuvre to avoid a collision.
READ MORE: US Congress Demands Regular Reporting on Chinese Actions in South China SeaScholars
Over the past few years, Beijing has cultivated an array of military assets in disputed strategic areas of the resource-rich South China Sea for what it described as national defence purposes.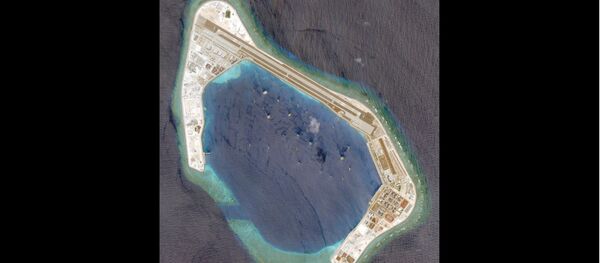 The Spratly Islands and Paracel Islands are among the more frequently disputed territories. Beijing, Taiwan, Vietnam, Malaysia and the Philippines have staked claims over elements of the Spratlys, while Beijing, Taiwan and Vietnam dispute sovereignty over the Paracels. China has exerted de facto control over the Paracels since 1974.
The US has long expressed alarm about Beijing boosting its clout in the South China Sea, but mostly limited its reaction to verbal reproach. US Navy ships carry out "freedom of navigation" operations in these areas, with US Air Force bombers sometimes conducting "flyovers" over the area.