The Russian Association of Cryptoindustry and Blockchain (RACIB) has signed a cooperation agreement with the Iran Blockchain Labs, one of the leading expert organizations of Iran, which is responsible for introducing digital technologies into the country's economy, according to Russia's RBK news network.
RBK cited RACIB head Yuri Pripachkin as saying that his company's expertise "can also be used in Iran, where the situation with sanctions is more complicated than in Russia because of the closure of SWIFT [the Society for Worldwide Interbank Financial Telecommunication] in the Islamic Republic."
READ MORE: Lavrov Calls US Sanctions on Iran 'Illegitimate', Slams Pressure on SWIFT
"According to our information, an active development of an Iranian analogue of SWIFT is currently under way. Cryptoeconomic tools can be used quite effectively to bypass sanctions restrictions, which is why this potential should be used in the current geopolitical situation," Pripachkin emphasized.
Earlier in November, Abdolnassr Hemmati, the head of the Iranian Central Bank, announced that Tehran will use alternative banking options following the suspension of SWIFT payments in the Islamic Republic.
His remarks came shortly after SWIFT announced what it described as a "regrettable" step to suspend the access of some unspecified Iranian banks to its messaging system.
READ MORE: Europe Wants Iran Connected to SWIFT Payment System Amid Sanctions — French
SWIFT, which made no mention of the new wave of US sanctions against Iran, added that the measure was "taken in the interest of the stability and integrity of the wider global financial system."
Head of the US Treasury Steven Mnuchin, for his part, made it plain that Washington wants the world-wide payment network to cut off its services to the entities that were affected by Iran's sanctions and warned that otherwise, SWIFT might be sanctioned as well.
On November 5, a second round of the US anti-Iranian sanctions came into effect following President Donald Trump's exit from the 2015 Iran nuclear deal, also known as the Joint Comprehensive Plan of Action (JCPOA), in early May.
READ MORE: 'US Bullying SWIFT Shows How Dysfunctional Financial System Is' – Prof. MP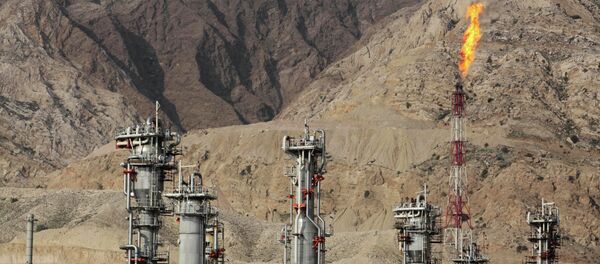 14 November 2018, 13:00 GMT
The new sanctions target Iran's energy, banking and sea-based transport sectors, and threaten so-called secondary sanctions against foreign companies and countries doing business with Tehran.
In September, Iran agreed to officially recognize the mining of cryptocurrencies as an industry, with Secretary of Iran's Supreme Council of Cyberspace Abolhassan Firouzabadi saying that expanding the use of cryptocurrencies aims to smoothen trade between Tehran and its partners, especially in the wake of renewed US sanctions.