Sputnik: What do you make of the deal that Theresa May presented to the House of Commons this morning?
David Coburn: It's the worst deal that the world has ever known — the worst deal in the world, utterly ridiculous. It's worse than being in the European Union, it has none of the advantages and all of the downside. No-one in their right mind would sign up to this. She's betrayed the country and she's betrayed her party I believe. And she's misled her cabinet who are resigning in droves and I don't blame them frankly — it's appalling.
Sputnik: What chances do you think there are of the Houses of Parliament voting for this deal?
David Coburn: I think you're seeing the demise of the Conservative Party — it's falling apart at the seams. For years there's been a fratricidal pact over the European Union and finally, the knives have come out — this is it. I was surprised that David Mundell — who made a big play of being a Unionist (personally I don't think they are Unionists the conservatives in Scotland) — he's letting down the country by not resigning. He should resign. He's betraying our fishermen and it's an absolute scandal.
READ MORE: 'Rotten Deal': What's in Brexit Agreement That is Enraging UK Politicians?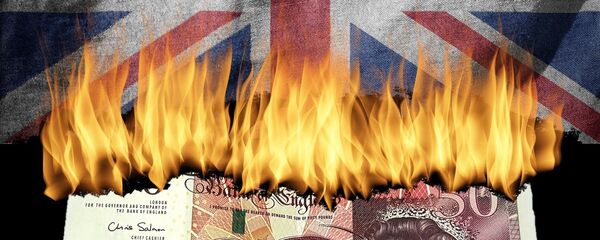 15 November 2018, 14:40 GMT
Sputnik: Should Theresa May resign?
David Coburn: Resign?! She should have never been elected in the first place. Absolutely she should resign. It's a disgrace — what's she done to the country is appalling. She's led us along for these two years when we should have been preparing for the country leaving without a deal. She's done not a lot to deal with that. I think she's been leading people along because quite frankly this deal is worse than being the European Union — it's appalling.
The European Union are not our friends — they are our enemies, they want to destroy us, they want to break up Great Britain. We didn't make a great deal of fuss about the problems they're having in Spain with the Catalunians — we could easily have done that — but the EU is not allowed to interfere in the internal affairs of sovereign nations. And that's why they haven't interfered in Spain but they seem very happy to intervene in Northern Ireland.
Then the Irish Republic are not our friends, we have given them enormous amounts of money when they went bust. Quite frankly they would pull the rug from under our feet — they're just out to get us as well. It's a disgrace. And for the PM to allow the country to be embarrassed like this — she's not fit for office.
READ MORE: Germany Says Soft Brexit Serves EU, UK Interests — Minister of State for Europe

15 November 2018, 13:40 GMT
Sputnik: Would you say a No deal is the best deal?
David Coburn: I've always said No deal — we walk out without a deal and what you'll find is they all come begging at our door. Because we buy more from them than the other way around so quite frankly they need us. You'll be having German industry battering at the German Chancellor's door begging for something to be done, then you've got the French.
The French have enormous problems have enormous problems having to sell their goods — they have to compete with Australia, New Zealand, all over the world. We don't have to drink French wine, it's not in their interest for Britain not to be drinking it. We're one of the biggest consumers of champagne. And their cars — the Germans want to sell their cars but of course Japanese will be infinitely cheaper if we are out of the European Union. We need to leave without a deal and we'll make deals with countries all around the world.
The views expressed in this article are those of the speaker and do not necessarily reflect those of Sputnik.