Gerard Batten, the leader of the United Kingdom Independence Party (UKIP), has appointed right-wing activist Tommy Robinson as his "special personal advisor on rape gangs and prison reform" — the subjects in which Gerard said Robinson had "a great deal of knowledge."
UKIP rules forbid members of the right-wing English Defence League (EDL) and similar organisations to become party members. On Sunday UKIP's governing body, the National Executive Committee, deferred a Batten-led motion to allow Tommy Robinson, the EDL ex-leader, to join the party until March 29 next year, when Britain is slated to leave the EU.
READ MORE: UKIP Founder on Theresa May: 'I Think She Will Cling on to the Bitter End'
However, Batten was apparently so willing to work with Robinson that he appointed him as personal adviser, without granting UKIP membership. "It is not necessary for him to be a party member in order to assist me in this role. I am looking forward to working with him," he said.
Nigel Farage, an MEP and former UKIP leader, was not happy with Batten's pick. He said that he was "appalled" by Robinson's appointment and that it undermines UKIP's reputation.
"Gerard Batten has got this sort of fixation with Tommy Robinson and discussing Islam and dragging Ukip in a direction of effectively being sort of a street activist party right at the moment when we have a betrayal of Brexit going on by both the Conservative and Labour parties, where UKIP's got potential reach out among the electorate, the highest it's ever been."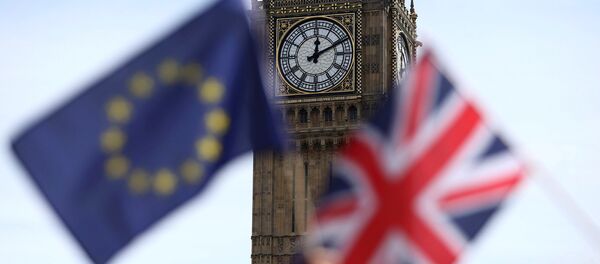 16 November 2018, 04:24 GMT
"It goes against all the things I did as leader to say we will talk about immigration, we will talk about the extreme forms of Islam. We'll do it as a non-racist, non-sectarian party. This blows a hole in all of that," Farage said, pledging that he would urge the UKIP NEC to call for a vote of no confidence in Batten.
Robinson, whose real name is Stephen Yaxley-Lennon, became an increasingly popular figure in the UK in 2009, when he founded the EDL, a right-wing activist group that has drawn criticism for its vocal anti-Islamic stance.
This May, Robinson was sentenced to 13 months in prison on charges of contempt of court for live-streaming members of an alleged Muslim grooming gang. He was released on bail on November 5; after his release, he scolded British courts and media for attempting to "silence and stop people having the knowledge" of the so-called gangs.