A US Senate report on Russia's alleged interference in the 2016 US presidential elections "cannot not cause anything but misunderstanding", according to the Russian president's spokesman, Dmitry Peskov.
He referred to what he described as common accusations and claims, which Peskov said are "absolutely incomprehensible to us" and which have nothing to do with Russia.
"Here I can repeat once again that we do not agree with all these allegations. The Russian government has nothing to do with any interferences [in the US elections], especially those which were abstractly described [in the report]|", Peskov pointed out. 
A draft of the report was obtained by The Washington Post, which leaked details on Sunday. The analysis by Oxford University's Computational Propaganda Project and Graphika, a social media intelligence firm, looked into millions of online posts provided by major technology firms Twitter, Facebook and Google, which detail alleged Russian efforts to help elect President Donald Trump.
READ MORE: Russia Did Not Give Consent to Trial Over Alleged Meddling — US State Dept.
Moscow has repeatedly denied allegations of interfering in the 2016 US presidential vote, saying they were invented to excuse the election loss of the other presidential candidate, Hillary Clinton, as well as to deflect public opinion from actual instances of electoral fraud, corruption and other pressing issues. According to Russia, no evidence of election meddling has been presented by Washington to substantiate the accusations.
Russia Regrets UN Resolution on Int'l Navigation Restrictions in Black Sea
Peskov also said that Moscow "deeply regrets" the fact that the UN General Assembly passed Ukraine's draft resolution calling on Russia to stop restricting international navigation in the Black Sea and the Sea of Azov.
He added that Crimea reunited with Russia after its residents expressed their will to do so "in strict accordance with the law existing in Ukraine at that time".
READ MORE: Merkel's Possible Successor Suggests Blockade of Russian Ships from Azov Sea
"In relation [to the resolution] we only can express our disagreement with such a position and our regret. We will surely continue to communicate our position to our partners", Peskov stressed.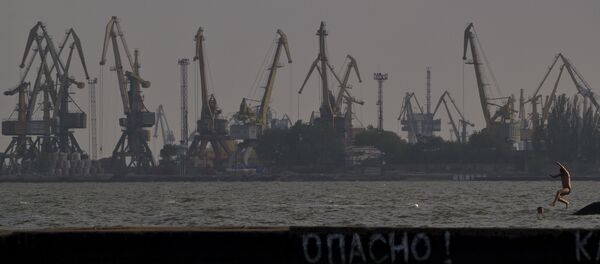 22 November 2018, 21:29 GMT
His remarks came after Ukraine's Berdyansk and Nikopol gunboats and the Yany Kapu tugboat illegally crossed the Russian maritime border on November 25 as they sailed toward the Kerch Strait, the entrance to the Sea of Azov. The Ukrainian vessels were arrested by Russia after failing to respond to a demand to stop.
Russian President Vladimir Putin described the incident as a "provocation" that was likely intended as a pretext to introduce martial law in Ukraine and boost Poroshenko's failing approval ratings ahead of the March 2019 presidential vote.