The embassy voiced concern over the "militaristic tone" of Williamson's speech, saying that such rhetoric, portraying Moscow as an "aggressor", aims to justify defence budget hikes.
"The general militaristic tone of the defence secretary's speech can't but cause concern. It is noteworthy that the intentions to demonstrate force, increase the lethality of the armed forces are not linked to the tasks to ensure UK security. It is about relying on the military force when promoting British interests in the world," the spokesperson said.
UK Defence Secretary's Speech
Earlier in the day, UK Defence Secretary Gavin Williamson in a speech at the Royal United Services Institute commented on plans for a European Army, UK military capabilities and other issues.
Gavin Williamson, in a Monday speech, urged NATO nations to live up to the 2-percent GDP defence spending commitment to boost collective capabilities and tackle the alleged threat of "resurgent" Russia.
READ MORE: NATO Supports UK, Dutch Cyberattack Accusations Against Russia — Stoltenberg
Williamson noted the "reviving" state-on-state competition as another challenge that had recently come to the fore along with international terrorism. Among the sources of concern, he mentioned "resurgent" Russia, which is "rebuilding its military arsenal and seeking to bring the independent countries of the former Soviet Union" into its orbit. He also mentioned China, which is developing modern military capabilities and commercial power.
"In NATO, we must stand firm against Russia's non-compliance with the INF [Intermediate-Range Nuclear Forces] Treaty, if necessary being ready to deal with the threat that new Russian missile systems may pose. The alliance must develop its ability to handle the kind of provocations that Russia is throwing at us," Williamson said.
Dwelling on the UK-post Brexit strategy, he stressed that the country intended to boost its global presence and build on its alliances.
"NATO, 70 years on from its founding remains the bedrock of our nation's defence. In the past five years, the alliance has come a long way — it is far more focused and ready to deter and defend against Russian hostile acts. But more European nations need to be ready and capable of responding to step up to a 2 percent NATO target and not being distracted by the notion of an EU army," he went on.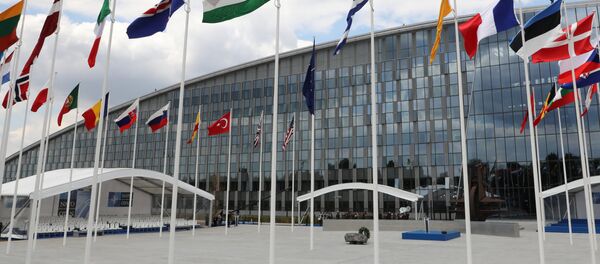 According to Williamson, it is necessary to send a signal that Russia's actions would "come at a cost," so the alliance should "stand firm" in helping the nations outside NATO in their "day-to-day struggle with Russian attempts to undermine their very sovereignty."
Williamson has repeatedly expressed concerns over Russia's alleged increasing military presence and accused it of various provocations, while Moscow has consistently refuted the allegations as being aimed at justifying the increased defence spending and distracting public from acute issues, such the Brexit deadlock.
The INF Treaty, which was signed by the United States and the Soviet Union in 1987 and banned all ground-launched missiles, conventional or nuclear, with ranges of 310 to 3,400 miles, has recently become another contentious point between the United States and its allies, including the United Kingdom, on one side, and Russia, on the other.
The United States is alleging that the range of Russia's 9M729 missile violated the treaty limits, but Moscow has denied the allegations, stressing that they were unsubstantiated. Russia, in turn, has complained that US defence systems in Europe were equipped with launchers capable of firing cruise missiles at ranges prohibited under the INF treaty.
Global Britain
Gavin Williamson said that Theresa May's "Global Britain" slogan is more than just a phrase, as the United Kingdom will be ready to flex its military muscles after it leaves the EU.
"That is why 'Global Britain' needs to be much more than a pithy phrase: it has to be about action, and our armed forces represent the best of 'Global Britain' in action," he said.
READ MORE: Defence Minister to Say Post-Brexit UK Should Increase Its 'Lethality' — Reports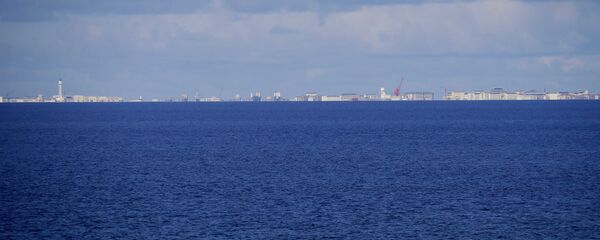 16 January 2019, 19:21 GMT
He added that since the "new global great game will be played on a global playing field", the UK must be prepared to compete for its interests and its values far from home.
The secretary noted that he understood the cost of intervention, adding that the cost of non-intervention was too often forgotten, even though it could be extremely high.
He added that "nor can we walk on by when others are in need, to talk but fail to act," risking that "our nations are being seen as nothing more than a paper tiger."
Gavin Williamson stressed that the first mission of the HMS Queen Elizabeth aircraft carrier will include work in the Mediterranean, Middle East and Pacific regions.
Under Prime Minister Theresa May, the UK government has been actively promoting the Global Britain strategy, stressing that a post-Brexit country will be even more outward-looking, boosting ties and trade with emerging economies and new partners outside Europe.
The statement comes after the Royal Navy's HMS Albion amphibious assault ship passed through Chinese-claimed areas in the South China Sea earlier that month on its way to Ho Chi Minh City in southern Vietnam.
China remains embroiled in a dispute with neighbouring countries and the US over territorial claims in the South China Sea, a strategic and economically important waterway.
EU Army
Speaking about the idea of creating a European army proposed by French President Emmanuel Macron, Gavin Williamson stressed that European nations should not get distracted by the idea of an EU army and need to reach NATO's target — each country spending two per cent of its GDP on defence.
"More European nations need to be ready and capable of responding to [the threats], stepping up to the 2-percent NATO target, and not being distracted by the notion of an EU army," Williamson said in a speech at the Royal United Services Institute.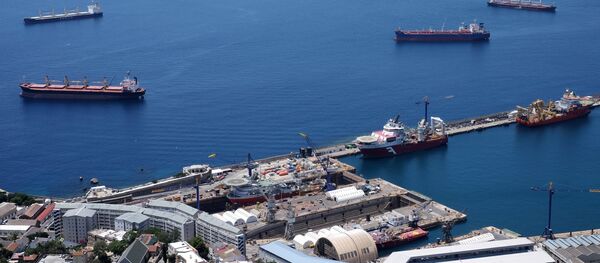 6 February 2019, 08:45 GMT
Williamson said that the alliance had made big progress in the last five years, becoming more focused and prepared to deter "Russian hostile acts."
The 2-percent defence spending is yet to be reached by many of the EU members of the alliance. US President Donald Trump has repeatedly urged NATO members to pay their fair share.
Meanwhile, the idea of an EU army has been floated around by a number of top EU politicians, including French President Emmanuel Macron and German Chancellor Angela Merkel. The latter suggested that this joint force could be a complement to NATO.