The United States is seeking to form a coalition for a change of government in Venezuela, US National Security Adviser John Bolton has stated.
"We are trying to rally support for the peaceful transition of power from [Venezuelan President Nicolas] Maduro to [self-proclaimed interim President of Venezuela] Juan Guaido, whom we recognise as president… I'd like to see as broad a coalition as we can put together to replace Maduro, to replace the whole corrupt regime. That's what we are trying to do", Bolton said in an interview with CNN.
The self-defeating and dangerous John Bolton (this time, on #Venezuela):

"In this administration we're not afraid to use the phrase Monroe Doctrine."

Also says this having just said US wants as broad a coalition as possible to oust Maduro. Reviving Monroe Doctrine won't do that pic.twitter.com/cFKuz8TKrk

— Ryan Goodman (@rgoodlaw) 3 марта 2019 г.
The statement comes amid a failed attempt by the opposition to deliver US-sponsored humanitarian aid to the country. The move was not authorised by the government and sparked clashes between police and protesters on the Colombian border with Venezuela.
Tensions in Venezuela escalated last month when US-backed opposition leader Juan Guaido illegally declared himself interim president. The United States immediately recognised Guaido, seized billions of dollars' worth of the country's oil assets, and threatened to use military action against incumbent President Nicolas Maduro's government.
READ MORE: Caracas Lifts External Administration of Venezuela's Largest Private Bank
Maduro has accused Guaido of conspiring with the United States to overthrow the country's legitimate government, including by organizing the delivery of so-called humanitarian aid as part of a plan to justify a US military intervention. Russia, China, Cuba, Bolivia and a number of other countries have reaffirmed their support for Maduro as Venezuela's only legitimate president.
On Trump-Kim Jong-un Summit
According to the senior official, US President Donald Trump offered to North Korean leader Kim Jong-un the best possible deal at their latest denuclearization summit.
"If you can't get a good deal — and the president offered to North Korea the best deal it could possibly get — no deal is better than a bad deal," Bolton said in an interview with the CNN broadcaster.
He also recalled that Trump said at a press conference held after the summit that a third summit had not yet been scheduled.
"Would he want another one without some manifestation that the North was gonna move, that will remain to be seen," Bolton added.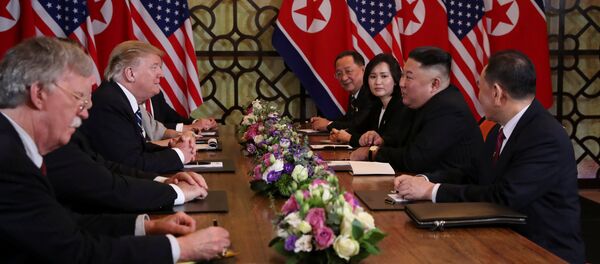 Although the two leaders have not arrived at any concrete agreement at their second summit, held in the Vietnamese capital of Hanoi last week, Trump praised progress in talks and said that negotiations would continue at the level of experts. He also noted that since North Korea was not willing to denuclearize the exact areas that Washington wanted while seeking full sanctions removal, it was not appropriate to sign an agreement at this point.
At his first summit with Trump in Singapore last June, Kim pledged to make efforts to denuclearize the Korean Peninsula in exchange for gradual sanctions removal and the suspension of US-South Korean military drills.