Venezuelan Information Minister Jorge Rodriguez has reacted to opposition leader Juan Guaido's calls regarding Venezuelan troops, saying that the government is confronting a small group of "military traitors" attempting a coup in the country. He further called on both civilians and the Venezuelan Army to be on "high alert" in order to thwart the coup attempt.
Informamos al pueblo de Venezuela que en estos momentos estamos enfrentando y desactivando a un reducido grupo de efectivos militares traidores que se posicionaron en el Distribuidor Altamira para promover un Golpe de Estado contra la Constitución y la paz de la República… 1/2

— Jorge Rodríguez (@jorgerpsuv) April 30, 2019
A este intento se agregó la ultraderecha golpista y asesina, que anunció su agenda violenta desde hace meses.Llamamos al pueblo a mantenerse en alerta máxima para,junto a la gloriosa Fuerza Armada Nacional Bolivariana,derrotar el intento de golpe y preservar La Paz.Venceremos 2/2

— Jorge Rodríguez (@jorgerpsuv) April 30, 2019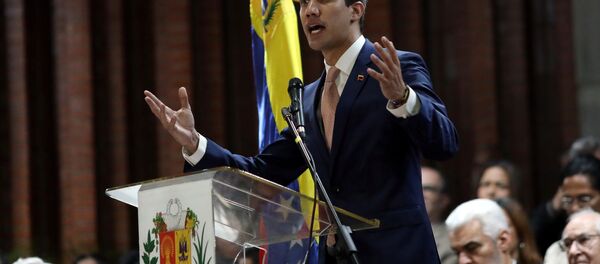 Venezuelan Defence Minister Vladimir López has denounced Guaido's "Coup movement" and stated that it aims to "fill the country with violence". He further reaffirmed the army's loyalty to President Nicolas Maduro and reported that the situation at all military bases remains normal.
According to a report by the AP, tear gas has been fired on the Caracas highway in front of the airbase, where Guaido appeared with people in military uniforms and opposition figure Leopoldo Lopez.
READ MORE: LIVE UPDATES: Situation in Venezuela as Guaido Calls on Troops to Oust Maduro
The minister's remarks come after Venezuelan opposition leader and self-proclaimed interim-president Juan Guaido published a video with a call for Venezuelan soldiers, as well as citizens, to go to the streets in Caracas to ensure "the definitive cessation of the usurpation" of constitutionally elected President Nicolas Maduro.
Guaido, speaking in the video and surrounded by people in military uniforms, stressed that Venezuelan will be fighting "in the nonviolent struggle" to "assume competencies of the government".
Pueblo de Venezuela vamos a la calle, Fuerza Armada Nacional a continuar el despliegue hasta que consolidemos el fin de la usurpación que ya es irreversible.

— Juan Guaidó (@jguaido) April 30, 2019
The opposition figure claimed on his Twitter that he has already received the support of the country's armed forces and announced a so-called "final phase" in his struggle to oust the Venezuelan president.
"The national armed forces have taken the correct decision, and they count on the support of the Venezuelan people", Guaido said
Fuerza Armada Nacional han tomado la decisión correcta, cuentan con el apoyo del pueblo de Venezuela, con el aval de nuestra constitución, con la garantía de estar del lado correcto de la historia. A desplegar las fuerzas para lograr el cese de la usurpación.

— Juan Guaidó (@jguaido) April 30, 2019
Reuters reported, citing an eyewitness, that Guaido and a group of around 70 soldiers are standing on a Caracas highway next to a military base. The opposition leader earlier announced that he was filming his video at the La Carlota Air Base.
READ MORE: Guaido Mobilizes 'Thousands' for 'Operation Freedom' Under Power Outages Pretext
The last time that Guaido called on Venezuelan citizens to join his so-called Operation Freedom in the wake of a massive blackout in the country, which was a result of sabotage on a power plant, he claimed to have gathered "thousands" of protesters for rallies across the country.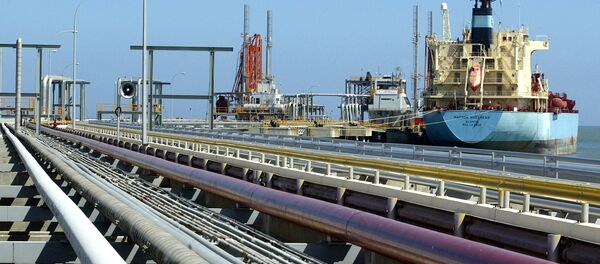 Despite failing to attract a larger audience in the country, Guaido announced another rally, scheduled for 1 May, promising that it will be "the largest march in Venezuela's history" and the "definitive phase" in deposing elected President Nicolas Maduro.
Guaido proclaimed himself interim-president of the country, immediately receiving support from the US and a number of other western states. At the same time many other countries, including Russia, China and Turkey have supported constitutionally elected President Nicolas Maduro.
The latter considers the opposition leader a "US-puppet" and has accused him of organising the sabotage on the country's biggest hydroelectric dam with help from Washington, resulting in nationwide blackouts that lasted weeks.
READ MORE: Sociologist: Guaido Doesn't Have Chance Now of Ousting Maduro
Venezuelan authorities launched an investigation into Guaido's actions early in April, stripping his parliamentary immunity. He has been accused of committing treason with some of his allies also being scrutinised.