Austria is likely to hold a snap election which may take place in July, or in September, the APA news agency said on Saturday citing its source in the right-wing Freedom Party.
Later in the day, Chancellor Sebastian Kurz stated that he was proposing snap elections to take place as soon as possible. 
"Enough is enough," Kurz emphasised mentioning some lesser scandals that involved the Freedom Party. He went on to note that he would suggest to Austrian President Alexander Van der Bellen that a snap election take place as soon as possible.
READ MORE: Austrian Vice-Chancellor Denies Receiving Any Assistance From Alleged Russian
This comes after earlier in the day local media reported that Kurz was not going to remain in a coalition with the FPO after the scandal involving Austrian Vice-Chancellor Heinz-Christian Strache, and wanted to call an early election. Prior to that, Strache stated that he is resigning after the video scandal.
On the same day, thousands of people gathered in front of the Federal Chancellery of Austria in Vienna demanding new elections.
​On Friday, Der Spiegel and Suddeutsche Zeitung reported, citing a video recording that they obtained, that in 2017, Austrian Vice-Chancellor and leader of the Freedom Party of Austria (FPO) Heinz-Christian Strache held talks regarding possible acquisition of the Kronen Zeitung newspaper by an alleged niece of a Russian oligarch; this move was allegedly made to secure help in the legislative elections.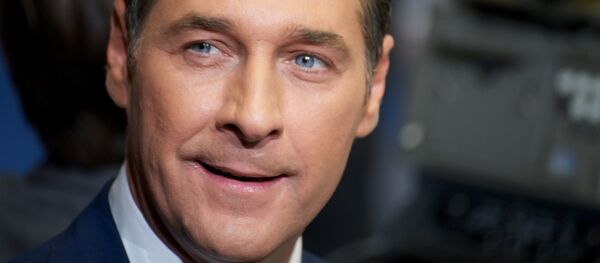 The outlets claimed that million-euro deals were discussed at the meetings, including access to government contracts. Strache, in turn, stated during a press conference that he was approached by a purportedly Latvian national with her daughter who was seeking to relocate to Vienna and invest there.
Following the reports, the OE24 broadcaster said that the majority of members of the People's Party, including Austrian Chancellor Sebastian Kurz, have lost confidence in the Freedom Party. Moreover, they were backing the idea of calling an early election.
Gerhard Mangott, political analyst from Austria's Innsbrook University commented on the situation saying that it was "likely that the co-voters will stick with the Freedom Party." He, however, noted that those "who have switch between values parties and last elections would be for the Freedom party might this time leave the Freedom party and go to the Conservative party."