The acting head of the Federal Aviation Administration said Wednesday, cited by Reuters, he does not have a specific timetable for when the agency may unground the Boeing 737 MAX.
"I'm not tied to a timetable", Dan Elwell told reporters ahead of a meeting planned for Thursday with more than 30 international air regulators, according to Reuters.
READ MORE: Boeing Received No New Orders for Aircraft in April — Reports
Elwell said he plans to share the FAA's safety analysis to date on Thursday, but said the agency is still waiting Boeing's formal software upgrade and emphasized the FAA has not decided on the revised training requirements, Reuters reported.
Last week, Boeing said in a press release that it has completed the updated Maneuvering Characteristics Augmentation System (MCAS) software updates for its 737 MAX aircraft following the crashes of two of them killing 346 people.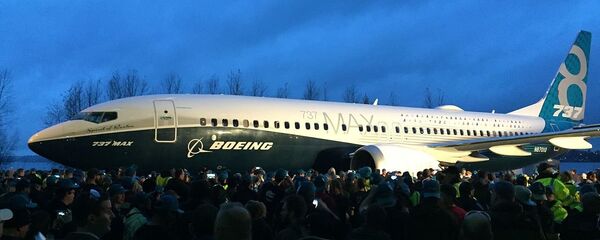 Boeing said it is now providing additional information to address Federal Aviation Administration requests that include details on how pilots interact with the aircraft's controls and displays in different flight scenarios.
The Federal Aviation Administration reportedly failed to recognize the critical safety risks of Boeing's 737 MAX flight-control system implicated as the culprit in the two deadly crashes in Indonesia last October and in Ethiopia in March.
The second tragedy led to world aviation authorities and carriers either grounding all 737 MAX series aircraft or closing their airspace to them.
READ MORE: Boeing Hushed Info About Safety Alert Problems With 737 MAX for YEAR — Reports
Pilots from American Airlines have reportedly called on Boeing to fix the problems with the 737 MAX jets weeks after the crash in Indonesia. During a closed-door meeting, the pilots even asked Boeing to push the authorities to ground all 737 MAX aircraft.