The United States has been coordinating new anti-Russian measures with its European allies and expects to put them into force as soon as Thursday, one source has told CNN. 
"State Department officials have called US allies and are preparing for potential Russian responses," CNN claims. 
According to an earlier report by the White House correspondent for Bloomberg News, Jordan Fabian, Washington was planning to impose sanctions on 12 Russian individuals and 20 entities, and expel 10 Russian diplomats from the United States in response to election interference allegations. 
CNN has just reported that the diplomats in question would be expelled from New York and Washington and given 30 days to leave the country.
The new measures targeted Moscow for alleged election interference, which Moscow has repeatedly dismissed as groundless. They would be issued in the form of an executive order from the US president, and necessitate the implementation of new sanctions by the US State and the Treasury Department. 
According to an official who spoke to CNN on condition of anonymity, it remains "unclear if these sanctions will be enough to change Russian behaviour".
The reports have not been confirmed by the White House. 
Russia's Sovereign Debt Under Attack
Biden's executive order is expected to target Russia's financial sector and sovereign debt, potentially expanding prohibitions on American banks attempting to buy new bonds from Russia's central bank, finance ministry and Russian National Wealth Fund after 14 June 2021, the Wall Street Journal explains. 
© AP Photo / Carolyn Kaster
Two children embrace as people gather and board a bus at the Russian Embassy in Washington, Saturday, March 31, 2018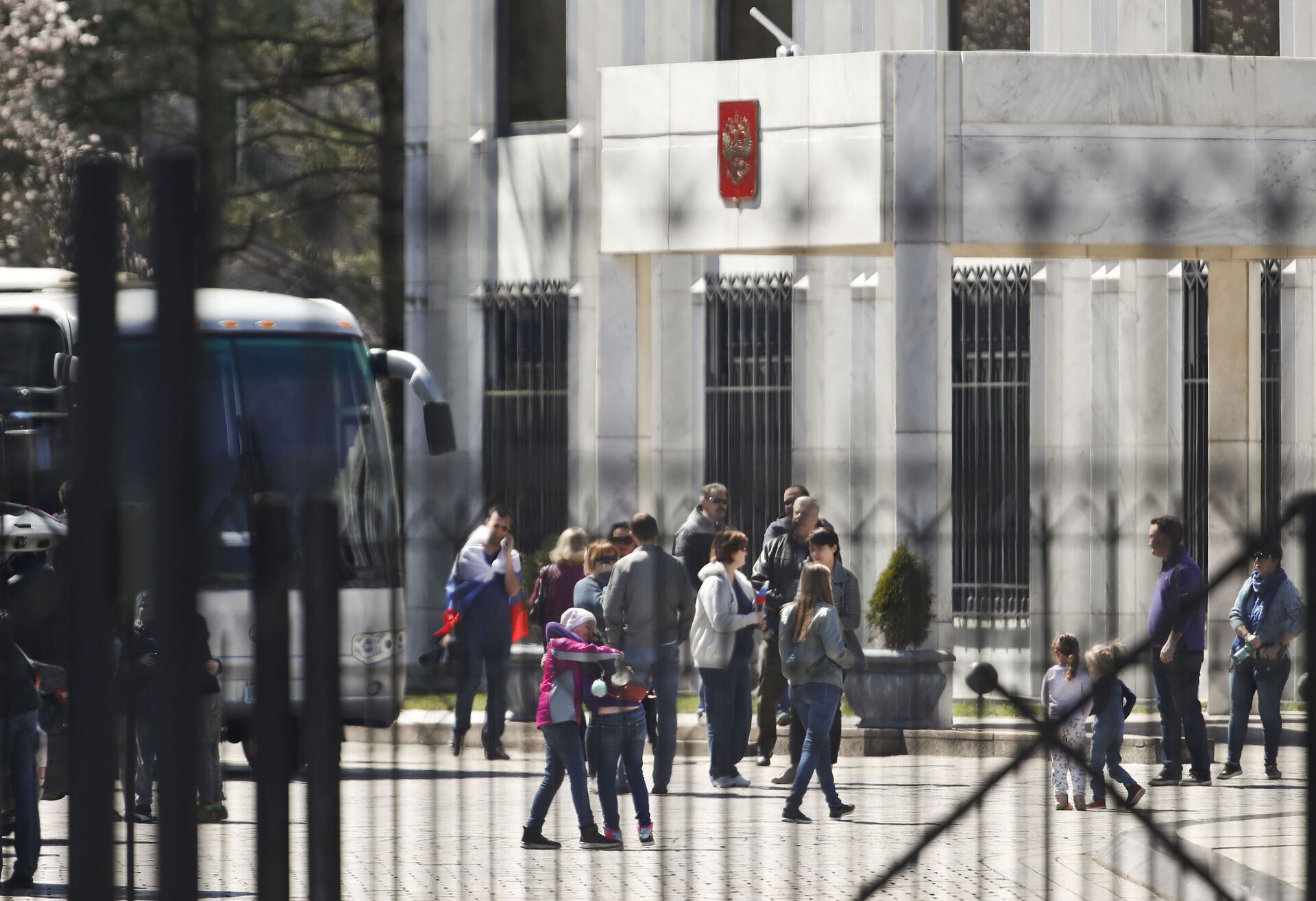 Two children embrace as people gather and board a bus at the Russian Embassy in Washington, Saturday, March 31, 2018
© AP Photo / Carolyn Kaster
Meanwhile, even if the measures take effect, there is one "mitigating factor", the WSJ notes, as the American financial institutions would still be able to trade bonds on the secondary bond markets, without directly interacting with Russian government entities.
In August 2019, Washington prohibited US institutions from taking part in the primary market for non-ruble bonds issued by the Russian government and lent to Moscow. The new measure potentially means that ruble bonds will also find themselves under attack now. 
Anti-Russian Hysteria
While Joe Biden has invited Russian President Vladimir Putin to hold a joint meeting "in the coming months" and potentially weeks, the White House continues to use full-fledged anti-Russian rhetoric.
US intelligence agencies have earlier accused Moscow of carrying out a cyberattack on the clients of computer security firm SolarWinds, which targeted US government agencies; as well as interference in the 2020 US presidential election - claims Moscow finds completely "unsubstantiated." According to the Kremlin, these accusations serve as a pretext for new American sanctions against Russia. 
The new sanctions and expulsion of diplomats are believed to also come as a response to CIA's earlier Trump-era assessment that Russia has been offering to pay bounties to Afghanistan militants to kill American soldiers there. Moscow has been furious about the accusations and while the Biden administration hasn't come up with any new information to substantiate these claims, Russian diplomats will now apparently fall prey to these allegations. 
Moscow has yet to respond to reports about the upcoming sanctions.