The owner of Geronimo, the ill-fated alpaca, has insisted that a post-mortem examination disproves the official reason for euthanising the animal.
But the Department for the Environment, Food and Rural Affairs' (Defra) chief vet has contradicted that claim.
Gloucester farmer Helen MacDonald's lawyers said a review of the Defra report by two activist vets indicated the cute camelid was not consumptive as claimed when he was
corralled by police
and put down on 31 August.
"As reviewed by Dr Iain McGill and Dr Bob Broadbent, the preliminary gross post-mortem findings are negative for visible lesions typical of Bovine Tuberculosis", the lawyers said in a statement.
"There are no white or cream caseous, enlarged abscesses typical for TB in alpacas whether in the lungs, bronchial, mediastinal or retropharyngeal lymph nodes", they added.
MacDonald has requested Defra hand over tissue and body fluid samples for independent testing.
But Defra Chief Veterinary Officer Dr Christine Middlemiss said a "number of TB-like lesions were found" in Geronimo's remains and were still being analysed.
"These tests include the developing of bacteriological cultures from tissue samples which usually takes several months," said Middlemiss. "We would expect to complete the full post-mortem and culture process by the end of the year".
MacDonald, McGill and animal welfare campaigner Dominic Dyer were advertised speakers at a protest outside Defra's Westminster offices on Thursday afternoon under the slogan "Justice for Geronimo" and "Stop the Badger Cull".
"Geronimo was a blessing in my life. He touched the world. He was loved and precious to very many people and he lives on", MacDonald told the demonstration. "I miss him. But I will do him the honour of fighting for him and making sure his legacy lives on for all animals".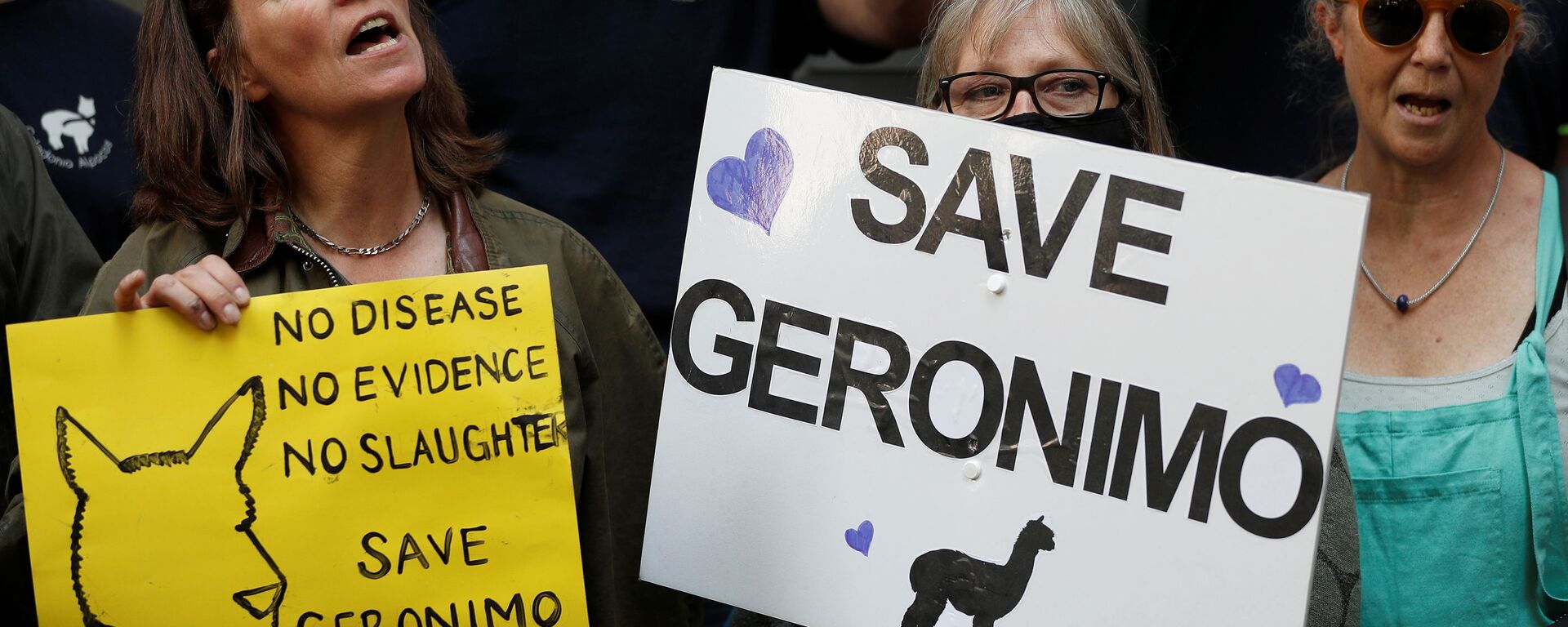 31 August 2021, 16:34 GMT
The department instituted a policy of
culling badgers
back in 2012 on the basis that they helped spread bovine tuberculosis between cattle.
Dyer optimistically speculated that the Geronimo saga — along with that of Kabul animal refuge charity boss
Pen Farthing's charter flight
to the UK for more than 150 of his pets, without any of his staff — would bring down Environment, Food and Rural Affairs Secretary
George Eustice
and Defence Secretary
Ben Wallace
.
Dyer and McGill are also leading supporters of Farthing's cause.