Ben Wallace has announced Britain's readiness to discuss Russia's security proposals with Russian Defence Minister Sergei Shoigu.
"I hope that by speaking today and starting that relationship, that was at zero percent, we can resolve a number of issues that you've raised," Wallace
said
, speaking to Shoigu in Moscow on Friday.
"[That] we can address some of the issues raised in Russia's draft treaty that was sent [in December]...and we can try to move on to where we can resolve our issues together through diplomacy, through other actions, and through confidence-building measures," he added.
Shoigu asked Wallace to explain why the UK has deployed its special forces troops in Ukraine, and why the West was "gorging" Kiev with weapons deliveries.
"For our part, we would also like to suggest to contribute to reducing tensions and stopping the supply of weapons to Ukraine. Weapons are coming from all sides and it is being done publicly, demonstrably. It's not entirely clear why. I would like also to understand why the United Kingdom sent its special forces to Ukraine, and how long they will stay there," Shoigu said.
The Russian defence chief constituted the military-political situation in Europe as becoming "more and more tense," stressing that this was taking place by no fault of Moscow. "Unfortunately, the level of our cooperation is close to zero and is heading below zero; this is something we would like to avoid," Shoigu stressed.
"Therefore, I really hope to have the opportunity to discuss the most pressing issues with you without any escalation and raising of the temperature even higher in relations between Russia and NATO countries, and especially with the United Kingdom, taking into account our shared historical experience of cooperation and combat cooperation," Shoigu told his British counterpart.
The Russian defence chief also informed British counterpart that Russia has considered how to respond to the US and NATO following their rejection of Moscow's security guarantee proposals, and said he believes "we will respond in the near future."
Speaking to reporters at the UK's Embassy in Moscow later in the day, Wallace said his talks with Shoigu had been "constructive and frank," and that they agreed on the importance of implementing the Minsk Agreements aimed at ending the frozen civil war in eastern Ukraine. He added that he "heard clearly" from the Russian side that Moscow has no plans to invade Ukraine.
The British defence chief further that the troops the UK has in Ukraine for training purposes would be returning home soon, and that London has "no plans" to send 600 special forces troops into the country. He suggested that the weapons systems sent to Kiev by Britain were "for protection," and also claimed that NATO is a "defensive" alliance that is "not seeking confrontation."
Wallace and other UK defence officials arrived in Moscow on Friday for talks with Shoigu and Valery Gerasimov - the Chief of Russian General Staff. The visit comes following
icy negotiations
between Foreign Minister Sergei Lavrov and Foreign Secretary Liz Truss on Thursday.
A source
told
Britain's The Times newspaper earlier Friday that Wallace's visit would include threats to slap new sanctions on Russia in the event that it "invaded" Ukraine, and demands that Moscow "pull back" troops situated near the border with that country.
The UK, the US and other NATO countries have spent months claiming that Russia was on the brink of invading Ukraine, citing the estimated "100,000 troops" near the frontier. Russian officials have dismissed the "invasion" claims, and accused the Western bloc of deliberately stoking tensions to justify putting more troops and offensive weaponry in Eastern Europe. The Biden administration appeared to confirm Moscow's fears earlier this month, announcing the deployment of thousands more US troops in countries near Russia in the Baltic and Black Sea regions. On Friday, NATO chief Jens Stoltenberg announced that the alliance was considering the creation of new battle groups in Black Sea region countries.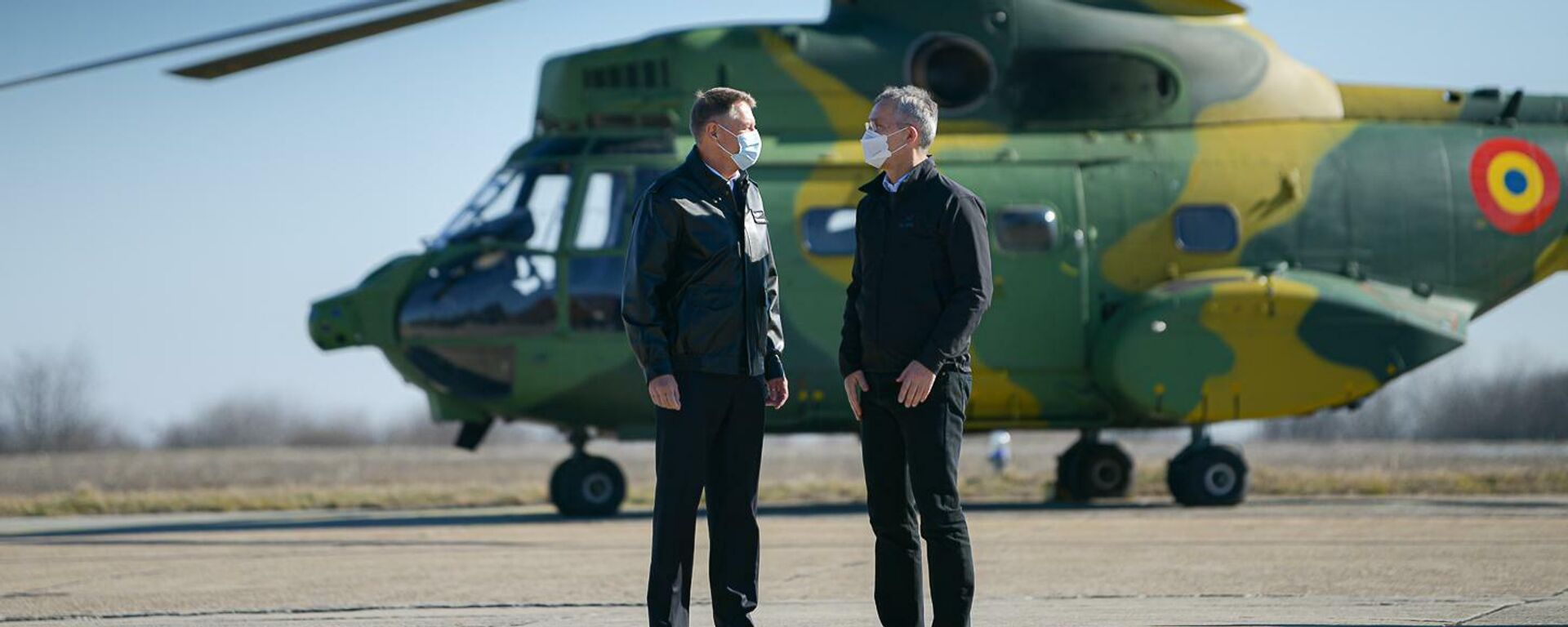 11 February 2022, 10:48 GMT
Russia proposed a pair of draft security treaties to the US and NATO in mid-December, calling for a mutual pullback of troops, missiles, aircraft and warships from areas where they may be considered a threat to the other side, and requesting that the Western bloc halt its attempts to expand into Ukraine and other post-Soviet republics. Washington and NATO formally rejected Moscow's proposals late last month, saying that it the Western alliance would not give up on its 'open door' policy for countries seeking to join.