"In Uvalde, you know all about that and what a horrible, horrible thing it was, to see it, to watch it. to hear about it," Trump said. "The terrible murder of 19 innocent children and two adult teachers, with many badly injured, was a savage and barbaric atrocity that shocks the conscience of every single American. So horrible."
Trump, who spoke during the regular National Rifle Association (NRA) convention, asked for a minute of silence and read out the names of each victim.
"If the United States has $40 billion to send to Ukraine we should be able to do whatever it takes to keep our children safe at home," Trump said on Friday, referring to the $40 billion Ukraine aid package recently passed by US Congress and signed into law by President Joe Biden. The bill will provide Kiev with significant lethal military assistance to counter Russia's special military operation in the country, among other aid.
The United States spent trillions of dollars in Iraq and Afghanistan for nothing in return, Trump said. The United States should invest in boosting security at US schools before it considers nation building around the world, he added.
Trump: Biden's 'Highly Divisive, Dangerous' Attacks on Gun Lobby Have No Place in Politics
"When Joe Biden blamed the gun lobby, he was talking about Americans like you, and along with countless other Democrats this week, he was shamefully suggesting that Republicans are somehow okay with letting school shootings happen," Trump said on Friday. "They're not okay with it. This rhetoric is highly divisive and dangerous and most importantly, it's wrong has no place in our politics."
Trump said every school in the United States needs to have just one point of entry and school facilities should have strong exterior fencing, metal detectors and the use of new technology to make sure that no unauthorized individual can enter a school with a weapon.
Trump also said every school in the United States should have a police officer or an armed resource officer on duty at all times.
Every police department in the United States needs rigorous training on active shooter protocols so law enforcement can immediately locate and eliminate targets because the police response in the Uvalde shooting took too long, Trump added.
On Tuesday, 18-year-old gunman Salvador Ramos shot and killed 21 people at the Robb Elementary School in Uvalde,
including 19 children
, over the course of about an hour before being killed by responding law enforcement officers.
The Biden administration and congressional lawmakers
have renewed discussions
about passing additional gun control legislation following the Uvalde shooting. Simultaniusply, Biden also issued an executive order on police reform allegedly seeking to enhance accountability against police misconduct.
"Just this week, the Biden administration announced new policies threatening to hold law enforcement officers liable not only for their misconduct, but even for the misconduct of other officers, a totally destructive policy that will only make our communities less safe," Trump said.
The White House said in a separate release that Biden's executive order directs the US Attorney General to
establish a national database
that will include records of police misconduct, which will be used by all federal agencies to screen personnel. The database will also be available for state and local law enforcement agencies to use, the release said.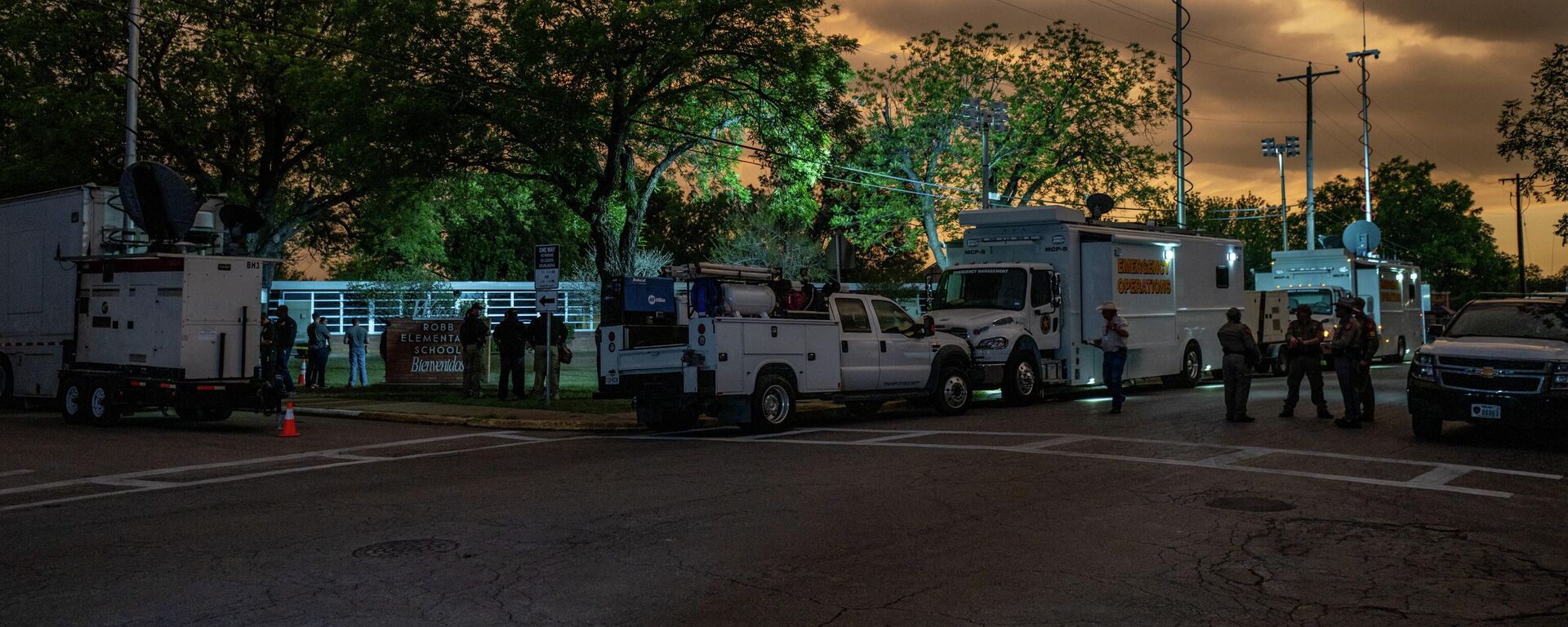 In addition, the executive order requires taking steps to strengthen thorough investigations into incidents of use of deadly force of people in custody, the release said.

Moreover, Biden also directed federal law enforcement agencies to adopt policies that will ensure body-worn cameras are activated during arrests and searches, the release said.
The executive order also bans federal law enforcement from using chokeholds and carotid restraints unless it is necessary, and it also limits the use of no-knock entries into homes during searches, the release added.
The executive order further restricts the transfer of military equipment to state and local law enforcement agencies, but it will continue to ensure they can access and use appropriate equipment for disaster-related emergencies, active shooter situations, hostage or search and rescue operations, and anti-terrorism operations, according to the release.