The attack on the Crimean Bridge was ordered, hatched, and carried out by Ukraine's special services, Russian President Vladimir Putin has indicated.
"This was a terrorist attack aimed at destroying critical Russian civilian infrastructure," Putin said, speaking at a meeting with Russian Investigative Committee head Alexander Bastrykin on Sunday evening. "The Ukrainian special services were the authors, perpetrators and customers," Putin added.
The chief investigator informed Putin that the Ukrainian special services received assistance from Russian citizens and foreign nationals in preparing the attack.
"We are continuing our investigation into the goals and objectives of this bombing. It undoubtedly carries a terrorist character. This was an act of terrorism. All our data allow us to draw an unambiguous conclusion - this was a terrorist attack prepared by the Ukrainian special services. The purpose of this terror attack was to destroy a large piece of civilian infrastructure which carries great importance for Russia," Bastrykin said.
"Many witnesses have been questioned, special expert studies have been begun and mostly completed, among them explosive, genetic and forensic examinations," the official added.

8 October 2022, 12:31 GMT
Investigators have tasked Russia's Interior Ministry and the FSB domestic intelligence agency to conduct investigative and search operations in connection with the crime.
Bastrykin said the route of the truck that was blown up on the bridge has been established, and includes Bulgaria, Georgia, Armenia, and the Russian regions of North Ossetia and Krasnodar.
Russia's National Anti-Terrorism Committee
reported
Saturday that a section of the motorway on the Crimean Bridge was destroyed after a truck exploded at 6:07 am local time, with several fuel tanks on a train traveling along the nearby rail portion of the bridge catching fire. Two motorway sections suffered a partial or complete collapse, but the bridge's arches appeared not to have been damaged.
Russian authorities announced a series of measures to repair damage and ensure stable transport ties between Crimea and Krasnodar Territory. Putin signed a decree Saturday night to step up security for transport crossing through the Kerch Strait, as well as electricity and energy infrastructure in the area.
Light vehicle and train traffic via the bridge resumed via the undamaged rail portion and the surviving roadway section of the bridge. However, buses and trucks were asked to use the emergency ferry service until an engineering assessment of the damage is completed.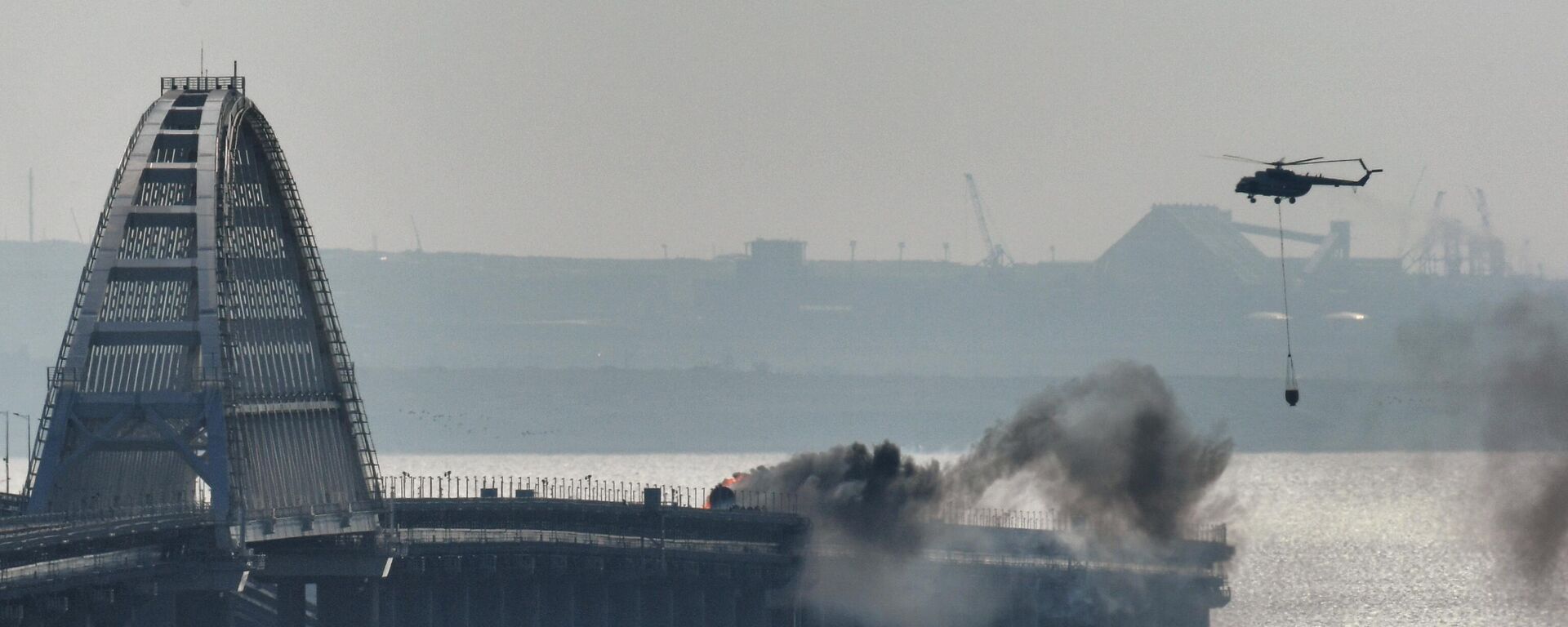 8 October 2022, 05:59 GMT
Ukrainian officials including President Volodymyr Zelensky openly gloated over the attack and hinted at Kiev's responsibility in a series of meme-filled posts on social media, with presidential advisor Mykhailo Podolyak writing that the attack on the bridge was just "the beginning" and that "everything illegal must be destroyed" and "everything stolen must be returned to Ukraine."
"Today was not a bad day and mostly sunny on our state's territory. Unfortunately, it was cloudy in Crimea. Although it was also warm," Zelensky said in a statement dripping with sarcasm in an address to the nation Saturday.
A preliminary investigation has determined that three people were killed in the terror incident.