"Most Americans, the general public, in fact, is divorced from this [US proxy] war," Professor Joe Siracusa, US political expert and dean of Global Futures at Deakin University, told Sputnik. "They don't care what Biden does. It's not going to have a big impact on public opinion tomorrow. What he's counting on is if he can get somebody to say that the Ukrainians were victorious. If someone will say that the Russians took a terrible beating, he can claim this as his foreign policy success. He's mishandled the Chinese, the Iranians and North Korea. He's got nothing to show in two years in office."
Joe Biden's
visit to Kiev
signals Washington's continued commitment to the Ukrainian regime, western media reported on Monday.
The US president arrived in Kiev at 8 am local time (GMT+2) and was greeted by the US Ambassador to Ukraine Bridget Brink. Biden reportedly took a nearly ten-hour-long train ride from Poland in a bid to get to the Ukrainian capital.
He was seen outside St. Michael's Golden-Domed Monastery with his Ukrainian counterpart Volodymyr Zelensky shortly before noon local time.
© AFP 2023 / DIMITAR DILKOFF
US President Joe Biden (L) walks next to Ukrainian President Volodymyr Zelensky (R) past a religious mural at the St. Michael's Golden-Domed Cathedral, as he arrives for a visit in Kiev on February 20, 2023.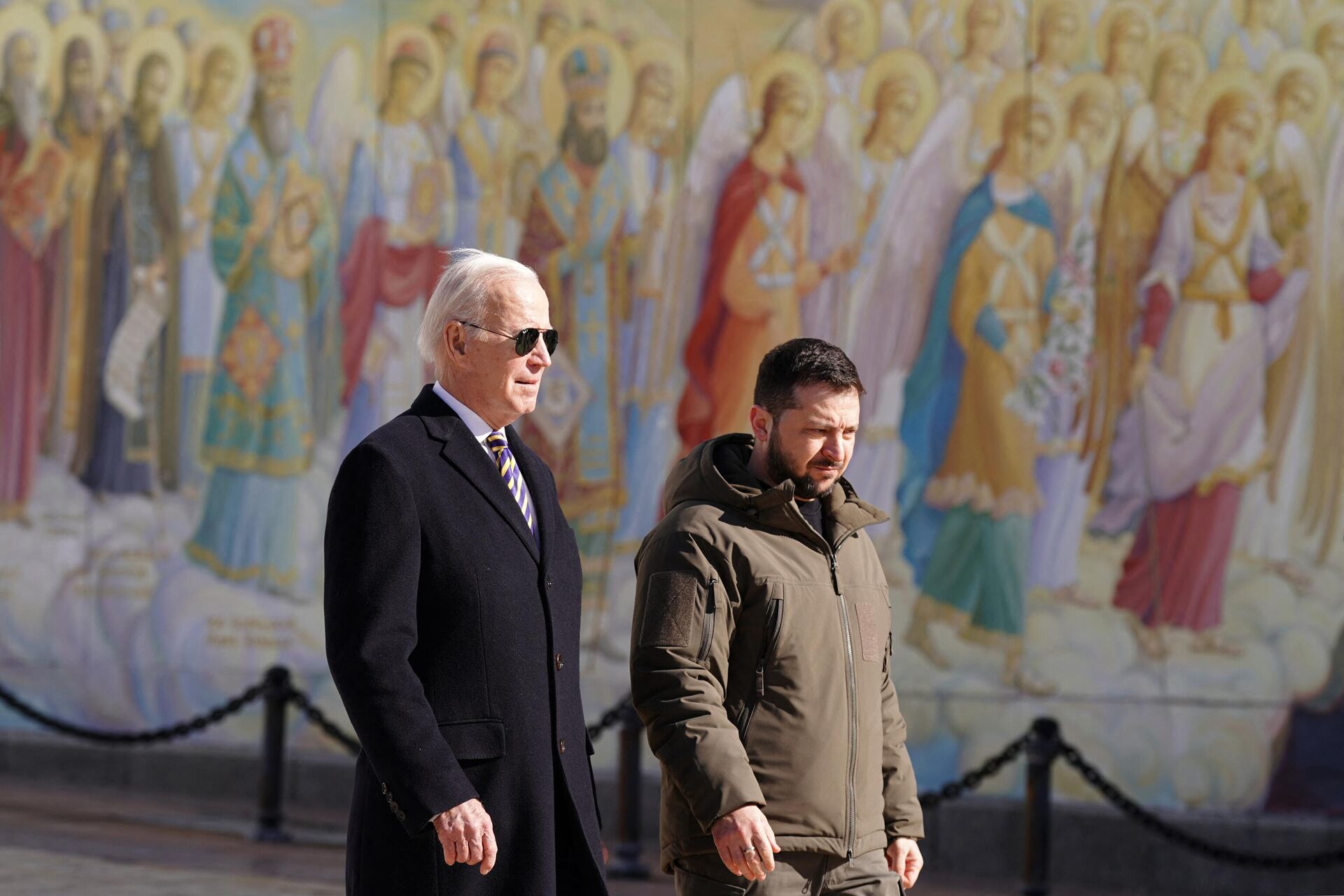 US President Joe Biden (L) walks next to Ukrainian President Volodymyr Zelensky (R) past a religious mural at the St. Michael's Golden-Domed Cathedral, as he arrives for a visit in Kiev on February 20, 2023.
During the meeting with Zelensky, Biden reportedly vowed to provide Ukraine with another $500 million in military assistance in the coming days, which will include artillery ammunition, Javelin missiles and Howitzers. However, he fell short of mentioning the advanced weapons that the Kiev regime seeks.
For his part, Zelensky told the press that he and the US president discussed the provision of long-range weapons and other arms which have not been previously supplied to Ukraine.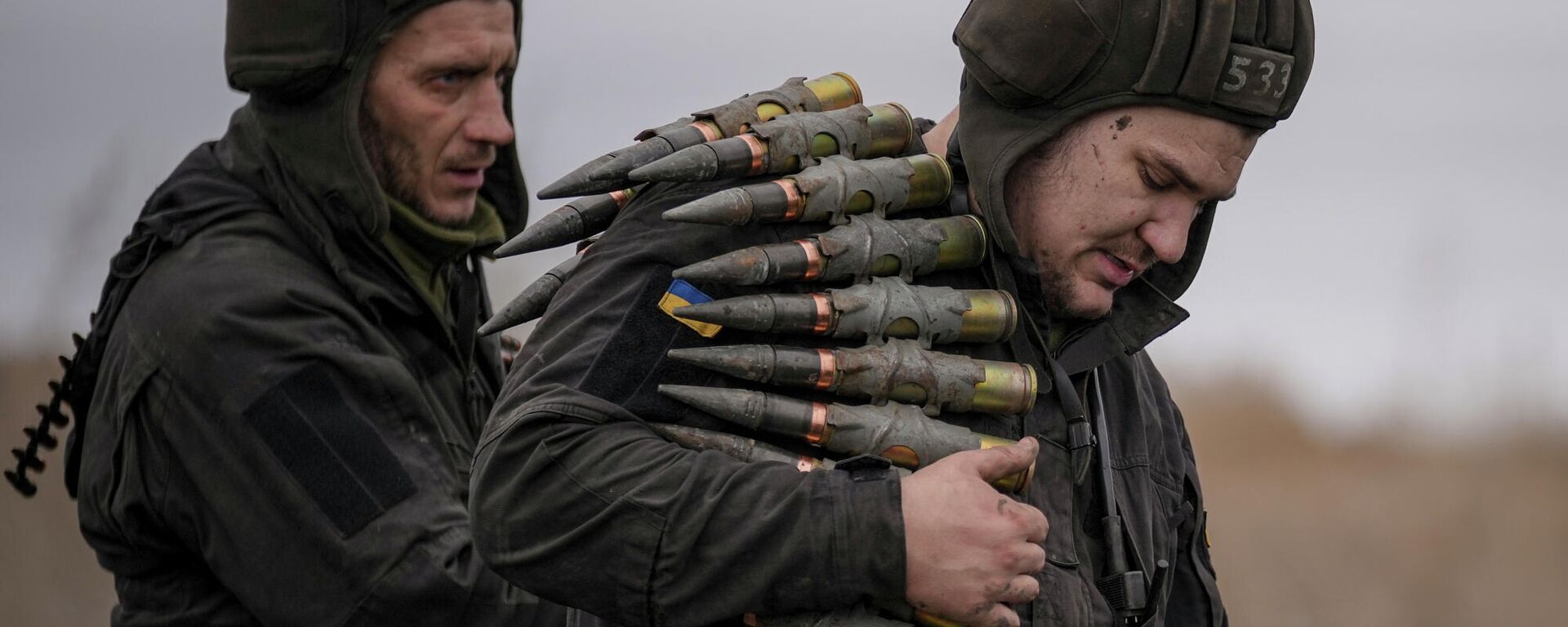 In the course of the joint presser with the Ukrainian president, Biden claimed that Russia's special operation is "failing".
"[Russian President Vladimir] Putin thought Ukraine was weak and the West was divided. He thought he could outlast us. I don't think he's thinking that right now. He's just been plain wrong. One year later, the evidence is right here in this room. We stand here together," Biden said. "The Americans stand with you and the world stands with you."
Biden's visit to Kiev came while he was expected to arrive in Warsaw, Poland, on February 21 for a two-day trip. US administration officials had repeatedly dismissed questions about the president's potential trip to Ukraine.
The US president's visit, which has been lauded as "symbolic" by the US press, came as unnamed US officials expressed concerns about Washington's ability to support Ukraine in the long run. Public support for arming Kiev is likewise fading in the US.
Following Biden's State of the Union address, in which he vowed to support Kiev as long as necessary, the US mainstream press quoted a senior administration official as saying that "we will continue to try to impress upon [Ukrainians] that we can't do anything and everything forever."
In addition, the number of respondents who favor providing weapons to the Kiev regime have
fallen below 50% in the US for the first time
since the beginning of the Russo-Ukrainian conflict, according to the latest survey by NORC Center for Public Affairs Research. Similarly, the number of those who are strongly opposed to sending weapons to Kiev has grown from 19% to 29%.
Meanwhile, House GOP lawmakers proposed a Ukraine Fatigue resolution earlier this month, urging the Biden administration to stop providing arms and funds to Kiev and broker peace between the warring parties.
While Joe Biden's visit was apparently aimed at reassuring Kiev of Washington's support, the Biden administration is facing pressure from House Republicans who warned the White House that it won't allow it to raise the debt ceiling without certain budget cuts, which could also involve Ukraine funding.
The US president has de facto dragged the nation into a war with Russia, according to Siracusa. He presumed that if Washington was not supplying the Ukrainians, the Russo-Ukrainian conflict would be over in 48 hours.
"I believe that this war is forced on the American people," he continued. "There's no groundswell to go to war with Russia over Ukraine. There's no groundswell to defend Ukraine. There is not a scrap of piece of paper. There's not a scrap of paper that says that the United States is obliged to come to the defense of Ukraine in a dispute with Russia. There is not a scrap of paper that says the Russian Federation is an enemy of the United States."
In fact the whole mess over Ukraine was triggered by a group of Russophobes within the Biden administration, comprising Victoria Nuland, Wendy Sherman, Antony Blinken and Joe Biden himself, to name but a few, according to the professor. This cabal has been pushing with this agenda since the presidency of Barack Obama, he noted, in an apparent reference to the February 2014 coup d'état in Kiev, vocally supported by the Obama administration.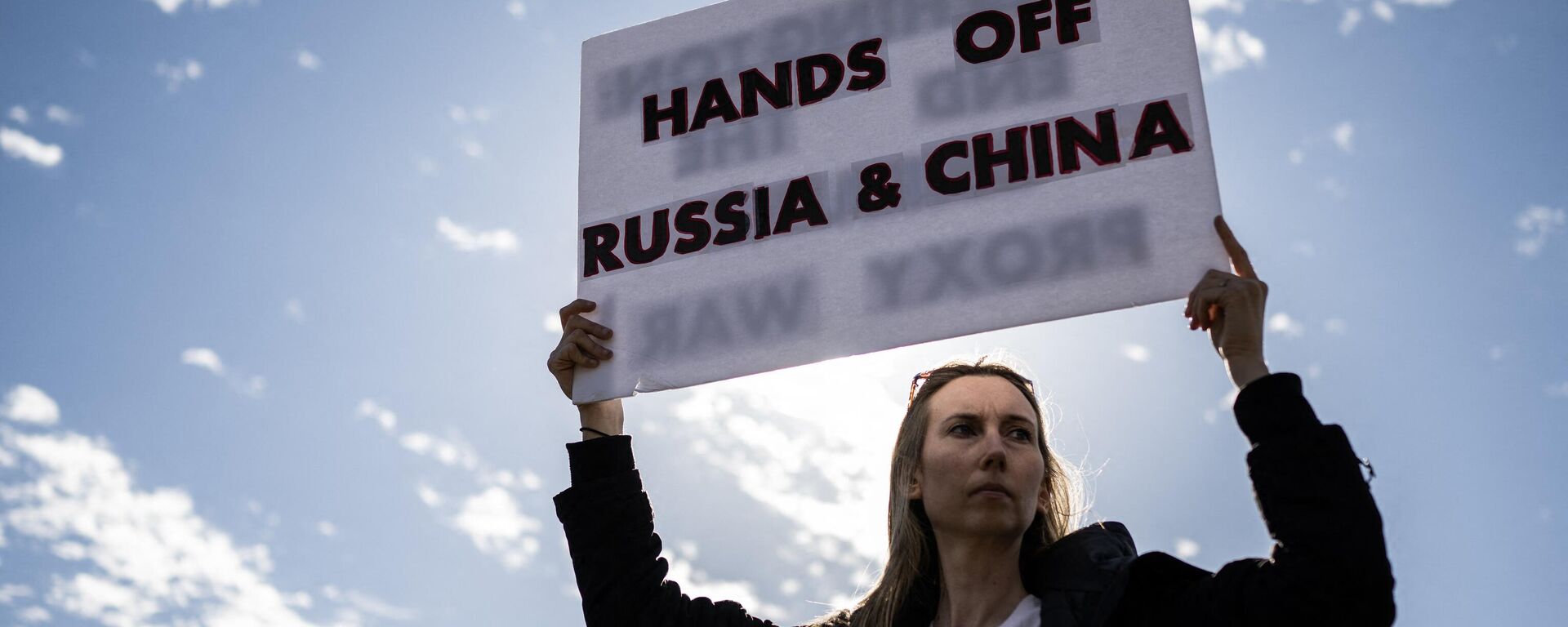 The US proxy war against Russia is contrary to the US national interest, according to the academic. While Biden and his entourage apparently believe that their successful re-election runs through Kiev, in reality the Americans need them dealing with domestic affairs in the first place. One glaring example, according to Siracusa is the toxic train derailment in Ohio which resulted in a dangerous chemical spill.
"[P]eople in Ohio don't want to see [Biden]," he said. "He's very unpopular there right now. They believe that the train was laden with all kinds of toxic chemicals and the rest of it. It'll be very unpopular for him to show up there. They're very angry at the government. He isn't going to waste his political capital going to a place where people are going to throw eggs at him. He just wouldn't want to go there."
However, no amount of military funding to Kiev and fanfare about it could eclipse burning domestic issues in the US, including border crises, soaring inflation and looming recession, according to the academic. What's more, neither the US nor Europe is likely to prevail in the confrontation with Russia, he noted.
"I just heard somebody say at the security conference in Munich that the Russian industry uses more artillery in one day than the Europeans produce in one month. It's not a war they can win," Siracusa said. "In short, I think President Biden has gambled his career on a victory in Ukraine, which is not coming."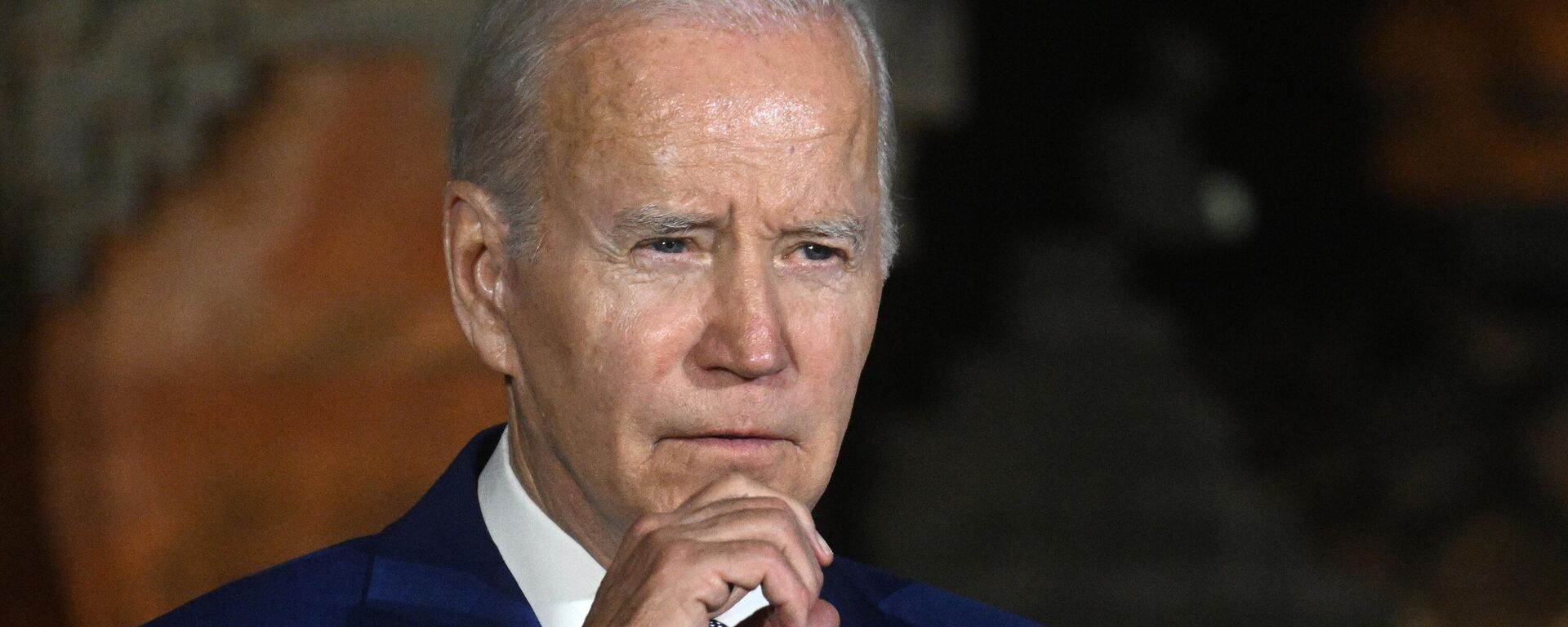 Biden's Messages
"I think that there are several messages behind this surprising visit by Joe Biden. And there are several audiences, several objects for this message," Dmitry Suslov, deputy director of the Center for European and International Studies at Russia's Higher School of Economics and deputy director of research at the Russian Council on Foreign and Defense Policy, told Sputnik.
First, Biden is trying to send a message to Russia that he won't abandon Ukraine, according to the academics. Another addressee of this message is Ukrainian troops who have been retreating in Donbass over the past several weeks.
Second, the Biden administration is pushing the Kiev regime to launch a new offensive regardless of the shortage of weapons. According to Washington and the NATO leadership, Kiev "must advance, must bring resolve as long as the American and the western support is there and the United States is not sure in reality that they will be able to continue the current levels of support to Ukraine in the in the long run," according to the academic.
Third, the US president apparently came to discuss a set of scenarios with Zelensky - including the one in which Kiev's offensive proves unsuccessful, according to Suslov.
"What are the criteria for peace negotiations, for armistice? Should Ukraine really retake all its previous territory, including Crimea, as an obligatory precondition for any armistice negotiations and diplomacy or not? So I think these are the crucial points which were discussed during the current visit," he said.
Last week, a US think tank brought forward an idea that the Biden administration is laying the groundwork for potential peace talks. The think tank particularly referred to Deputy National Security Adviser Jon Finer, Deputy Secretary of State Wendy Sherman and Undersecretary of Defense Colin Kahl who reportedly gave a signal to Kiev that Ukraine have to take as much territory as possible before sitting down with Russia at the negotiating table.
The rush is apparently justified by the Biden administration's concerns that this year it would not be as easy to pass a multi-billion package to Ukraine as it was in 2022. Presumably, it could be related to GOP House lawmakers' opposition for the White House's uncontrollable spending bonanza, with rising inflation and the specter of recession looming.