Those who favor providing weapons to the Kiev regime have fallen below 50% in the US.
Only 48% of respondents said that they either "strongly" or "somewhat" support arming Kiev, sliding from 60% in May 2022, according to the latest survey by NORC Center for Public Affairs Research. Likewise, the number of those who are strongly opposed to sending weapons to Kiev has grown from 19% to 29%.
US citizens are also divided when it comes to sending government funds directly to Ukraine: 37% favor the move; 38% are opposed; while 23% are undecided.
The survey further indicated that confidence in US President Joe Biden's ability to handle the situation in Ukraine is not that strong: only 19% of Americans believe that the president knows how to manage the crisis, while 37% say they have only some confidence and 43% don't have any.
Views of Biden's handling of the Ukraine crisis are divided along party lines: 40% of Dems say they have a great deal of confidence in the incumbent president, while 76% of Republicans say they hardly have any.
Another survey conducted by OnMessage Inc. and commissioned by the American Principles Project indicated that 50% of Republican primary voters are less likely to vote for a candidate who supports providing military assistance to Ukraine. At the same time, the majority of GOP voters said they want a Republican presidential candidate to deal with domestic issues, most notably culture war issues in education and health.
In addition, the latest Pew Research survey demonstrated that strengthening the economy tops Americans' agenda: 75% of US citizens say that the US economy deserves special attention; while only 21% rate economic conditions as excellent or good.
According to the pollster, the public continues to express negative views of national economic conditions, and with good reason. Even though the job data appears to be promising, the latest Consumer Price Index (CPI) report showed that inflation is far from being tamed. In addition, surging retail sales indicators make the Federal Reserve's new interest rate hikes imminent which means higher borrowing costs and industrial slowdown. To cap it off, the Congressional Budget Office (CBO) projected earlier this week that unemployment is likely to surge this year, while the exit from inflation will be particularly slow.
Ukraine Fatigue Resolution
Unsurprisingly, the bellicose sentiment is fading in the US, apparently leaving room for pragmatism. Last week Republican Representative Matt Gaetz (Fl) introduced the Ukraine Fatigue Resolution stipulating that the US should stop arming Kiev and convince warring parties to reach a peace agreement. Ten House Republicans co-sponsored the bill.
"President Joe Biden must have forgotten his prediction from March 2022 suggesting that arming Ukraine with military equipment will escalate the conflict to 'World War III.' America is in a state of managed decline, and it will exacerbate if we continue to hemorrhage taxpayer dollars toward a foreign war," Gaetz argued in an official statement last Thursday.
Moreover, the Biden administration is facing
a tough debt ceiling battle
with the GOP making it clear that it won't allow the Dems to continue printing money and inflating the already bloated US debt without certain budget cuts which potentially include multi-billion dollar funding of Kiev.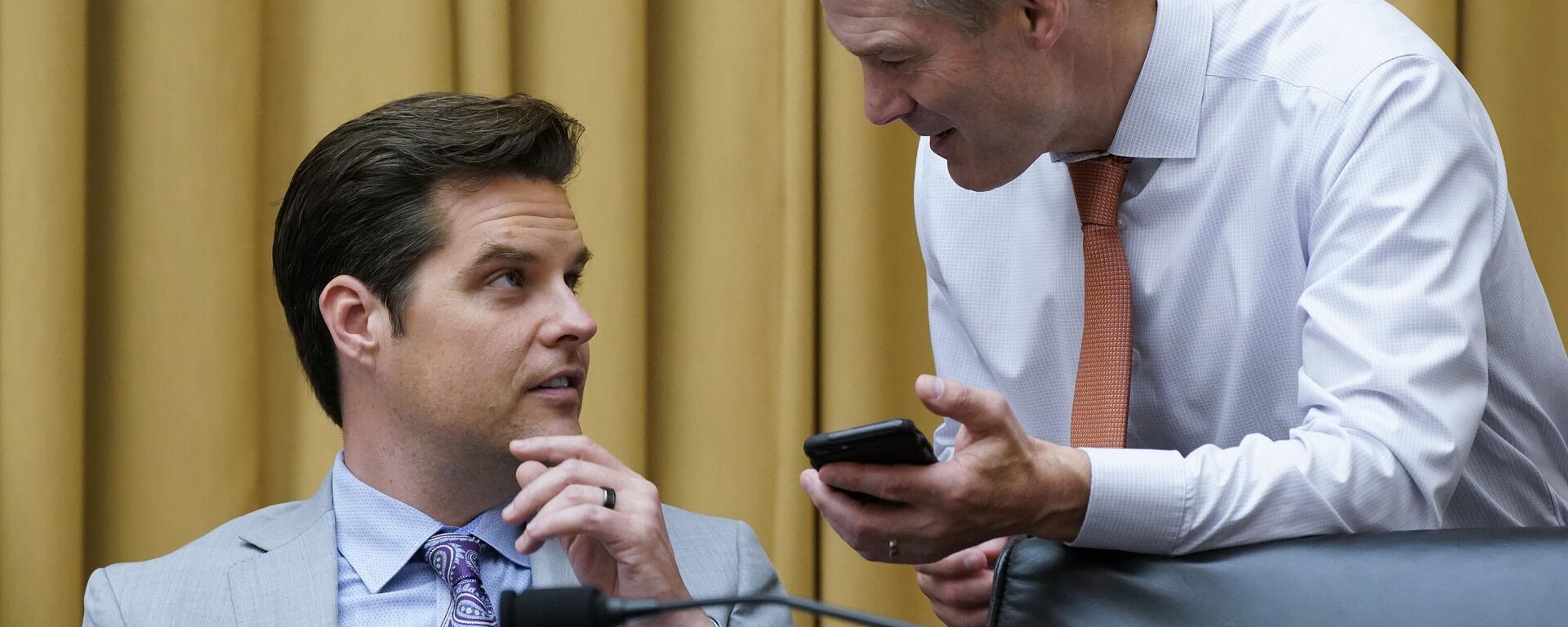 US Won't Stand With Kiev for Too Long
It appears that the Biden administration is well aware of the emerging fatigue with its Ukraine adventurism. All of a sudden, Secretary of State
Antony Blinken revisited the idea of "red lines,"
telling a group of experts in a Zoom call that Russia is unlikely to back down on Crimea.
Meanwhile, the Quincy Institute for Responsible Statecraft, a DC-based think tank, summed up recent statements given by US government officials to the US mainstream press, both publicly and privately, and came to the conclusion that the Biden administration may be laying the groundwork for Russo-Ukrainian peace talks.
Even though President Biden promised Ukraine in his State of the Union address that "America... will stand with you as long as it takes," the US mainstream press quoted a senior administration official as saying that "we will continue to try to impress upon [Ukrainians] that we can't do anything and everything forever."
Furthermore, there were reports alleging that CIA Director William Burns met secretly with Ukrainian President Volodymyr Zelensky and warned him that "at some point assistance would be harder to come by." According to the think tank, Kiev could rely on US assistance through the summer 2023 but it's unclear what comes next.
Yet another possible harbinger of change is mainstream media reports saying that US officials are urging Ukrainian leaders to make significant gains on the battlefield while weapons and aid from the West is still coming. The think tank alleges that the US wants Kiev to take as much land as it can during this time period and then join Russia at the negotiating table. It appears, however, that Washington is skeptical about Kiev's odds of taking Donbass or Crimea.
The think tank also cited the preliminary Istanbul agreement reached by Russia and Ukraine in late March 2022, a month after the beginning of the operation, suggesting that potential future negotiators could start it over again. The question then arises as to why the West pushed Kiev to upend the Istanbul accords and spill the blood of its people while less than a year later western leaders appear to be ready to consider similar conditions.