The announcement by Russia's President Vladimir Putin that
Moscow and Minsk have agreed
in principle on Russia being able
to deploy tactical nuclear weapons on Belarusian territory
, made in an interview for the Russia-24 broadcaster on Sunday, set off a media storm. Bombastic rhetoric has come from the Kiev regime and a host of politicians representing the so-called collective West. Ukraine demanded an urgent UN Security Council meeting on March 26, accusing Russia of making Belarus a "nuclear hostage." The EU's
hawkish top diplomat
, Josep Borrell, warned of "escalation and threat to European security," despite himself saying last year that the Ukraine conflict would be "won on the battlefield." The Foreign Ministry of Germany, a country which has
pledged Leopard 2 tanks to Ukraine
, decried the "nuclear intimidation attempt."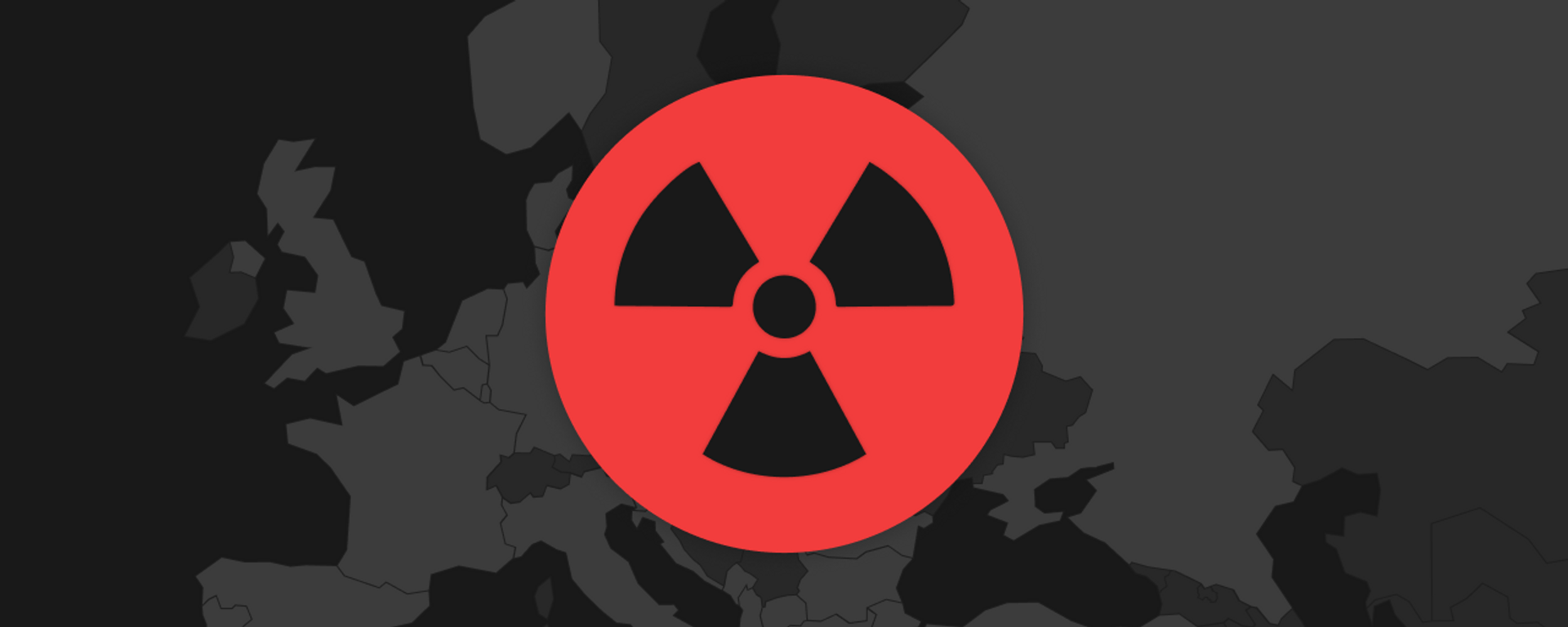 "The comparison made by President Putin with NATO's nuclear involvement is misleading and cannot justify the move announced by Russia," Germany's Foreign Ministry was cited as stating by
Welt
.
The announced move, which could be done without violating Russia's obligations under
the New START Treaty
, Vladimir Putin said on March 26, was prompted by the recent
UK announcement
of
depleted uranium (DU) munitions deliveries to the Kiev regime
to be used in the ongoing proxy war against Russia in Ukraine.
"We agreed that - in this sense, [Belarusian President] Alexander Grigorievich [Lukashenko] is right when he says 'listen, we are your closest allies. Why do the Americans place nukes on their allies' territory?' They also engage, by the way, in the training of allies' pilots to use these weapons if necessary," Putin stated.
President Vladimir Putin pointed out that Washington has long been "placing tactical nuclear weapons on the territory of allied countries, NATO countries, in Europe."
"The United States has been doing this for decades... In six states, if memory serves: Germany, Turkiye, the Netherlands, Belgium, Italy, and Greece. There are no nukes in Greece right now, but there is a storage facility," Putin said, adding:
"We have agreed that if necessary, we will do the same thing."
Putin assured that Russia has every intention of maintaining control over the nukes it would send to Belarus, with construction of required storage facilities to be completed by July 1, 2023.
Where are US nukes hidden, and does the US have missile defense in Europe? Sputnik has the answers.
Which NATO Countries Have Nukes?
At the moment, nuclear weapons are possessed by
three North Atlantic Treaty Organization
(NATO) allies: the United States, United Kingdom, and France. The
US boasts the lion's share of all nukes,
according to
Statista
. Cited Pentagon data indicates that there are at present
5,428 nuclear warheads on at least 652 delivery vehicles in the US
, including 400 Minuteman III intercontinental ballistic missiles and 14 nuclear-capable
Ohio-class Trident submarines
. The currently deployed number of US nuclear warheads stands at 1,350.
Why Are US Nukes in Europe?
Ever since the mid-1950s,
US-owned nuclear weapons have been deployed across military locations in Europe
. Then-President Dwight D. Eisenhower authorized storage of such weapons on the continent amid allegations of the threat emanating from the Soviet Union. Now, it should be noted that the 30-member security alliance of countries in North America and Europe itself does not "own" any nuclear weapons. In line with the so-called principle of NATO nuclear sharing,
nuclear warheads
are stored across Europe at air bases in
Belgium, Germany, Italy, the Netherlands, and Turkiye
, according to the Washington-based non-profit organization Center for Arms Control and Non-Proliferation.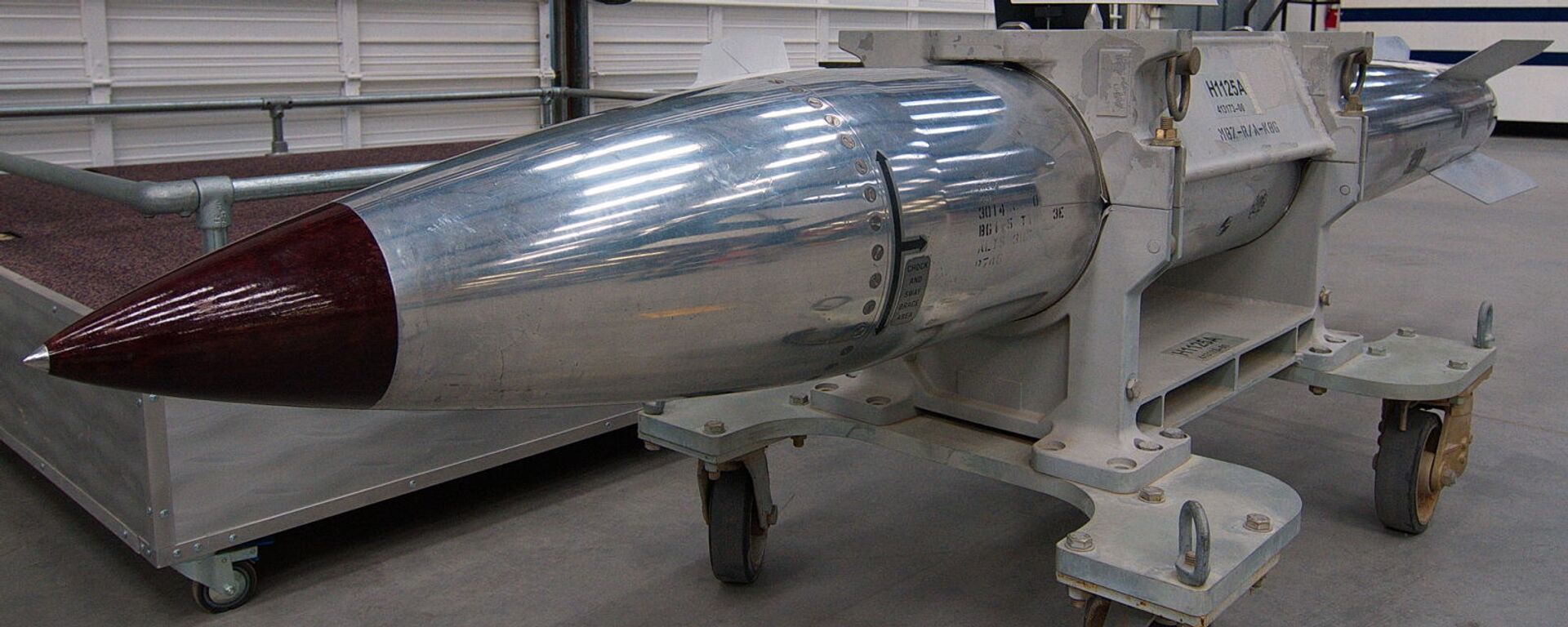 Accordingly, nuclear bombs, as well as nuclear-armed missiles, were deployed by Washington to allied European states. These included the United Kingdom (from 1954) and Greece. Since 2008, the UK has not hosted US nuclear weapons, the Center for Arms Control and Non-Proliferation states. Greece also hosted Washington's nukes on its soil as part of the NATO nuclear-sharing agreement. At the American bases in the country, it reportedly stored some nukes in the form of artillery shells, others as bombs, and some on Lance missiles. However, after Greece said it wanted to scrap the deal, the US freed the country's territory of the last of its nukes in 2001, according to the Natural Resources Defense Council.
Nuclear sharing
is the alliance's arrangement ensuring that "the benefits, responsibilities and risks of nuclear deterrence are shared across" the whole of the bloc,
NATO's official website
states.
© Flickr / National Museum of the U.S. Navy
ATLANTIC OCEAN (August 31, 2016) An unarmed Trident II D5 missile launches from the Ohio-class fleet ballistic-missile submarine USS Maryland (SSBN 738) off the coast of Florida. The test launch was part of the U.S. Navy Strategic Systems Programs demonstration and shakedown operation certification process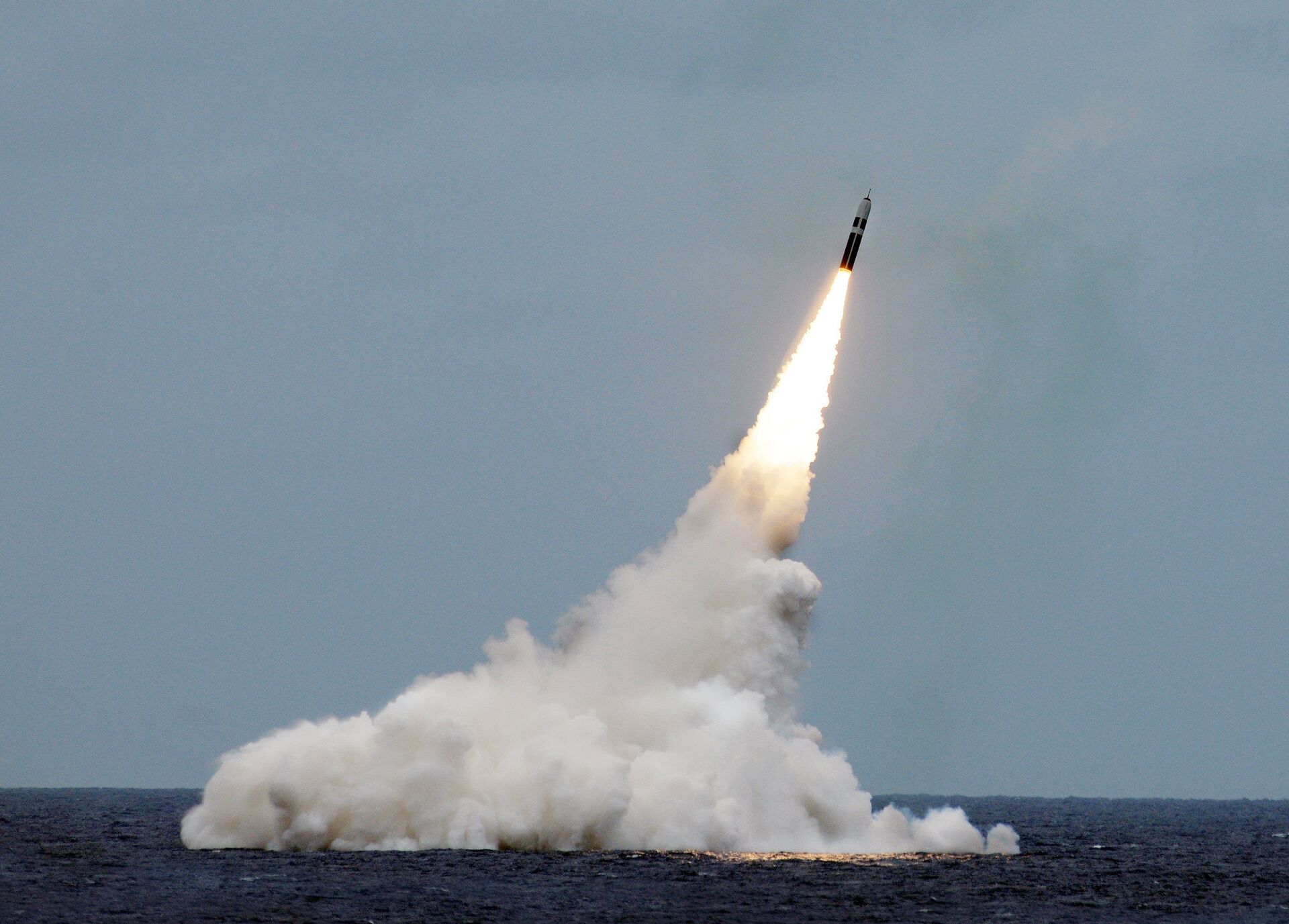 ATLANTIC OCEAN (August 31, 2016) An unarmed Trident II D5 missile launches from the Ohio-class fleet ballistic-missile submarine USS Maryland (SSBN 738) off the coast of Florida. The test launch was part of the U.S. Navy Strategic Systems Programs demonstration and shakedown operation certification process
How Many US Nukes Are Hidden in Europe?
As for the exact figures of nukes stashed away in European stockpiles, Washington and its NATO allies are cagey about it. Around 100 US nuclear weapons were estimated to be stored at six of the alliance's bases on the territory of five member states - Germany, Italy, Belgium, the Netherlands, and Turkiye, according to Center for Arms Control and Non-Proliferation data.
Furthermore, this "open secret" about the presence of Washington's nukes on the continent was accidentally leaked in 2019. The details surfaced in a reference inserted in a nuclear deterrence policy assessment document. Titled "A new era for nuclear deterrence? Modernisation, arms control and allied nuclear forces," it was published by a Canadian senator for the Defense and Security Committee of the NATO Parliamentary Assembly. Albeit subsequently deleted, the reference was seized on by European media outlets. A bevy of publications then rushed to reveal that Europe was being used to store an estimated 150 US nuclear weapons.
What Kind of Nukes Does US Have in Europe?
At the secret locations scattered across the European continent, US nuclear weapons mainly consist of B61-3 and B61-4 gravity bombs, according to the Center for Arms Control and Non-Proliferation. Dual-capable aircraft can be used to carry such nuclear weapons. Furthermore, as part of the National Nuclear Security Administration's B61-12 bomb's Life Extension Plan, updated warheads are scheduled for deployment by the year 2024 to hosting nations.
As for the American nukes stored at European bases, they are kept in Weapons Storage and Security System (WS3) underground vaults. The weapons themselves are not deployed on aircraft, the nonprofit underscores. Only Washington can resort to Permissive Action Link (PAL) codes to arm the nukes, after which they would be loaded onto NATO-designated aircraft.
Where Are US Nukes Hidden in Europe?
The US nuclear weapons are stored at six American and European military bases on the continent, according to the leaked details of the NATO-affiliated body's 2019 report, which found their way into the press. These locations are as follows:
Kleine Brogel
base in Belgium,
Buchel
in Germany,
Aviano
and
Ghedi-Torre
in Italy,
Volkel
in the Netherlands, and
Incirlik in Turkiye
. When the accidental mention of locations was scrubbed from the above-cited report, and the document found its way officially into the press, it contained an unspecific reference to aircraft "that could carry nuclear weapons."
"The European Allies often cited as operating such aircraft are Belgium, Germany, Italy, The Netherlands, and Turkey," the document stated, referencing a report by the Nuclear Threat Initiative dated 2018.
The divulged data and locations follow previous indications shedding light on the presence of America's nuclear weapons. For example, WikiLeaks cited a diplomatic cable sent by then-US Ambassador to Germany Philip Murphy in November 2009, which seemed to confirm the presence of US nuclear weapons on Dutch soil. It stated:
"A withdrawal of nuclear weapons from Germany and perhaps from Belgium and the Netherlands could make it very difficult politically for Turkiye to maintain its own stockpile."
Does US Have Nuclear Weapons in Germany?
Germany, which has neither signed nor ratified the Treaty on the Prohibition of Nuclear Weapons (TPNW), is one of the five NATO members hosting US nuclear weapons on its soil in line with the bloc's nuclear-sharing deal. An estimated 10 to 15 B61 nuclear bombs are reportedly stashed away at the Buchel Air Base of the German Air Force, or Luftwaffe, according to data from the International Campaign to Abolish Nuclear Weapons (ICAN).
Aerial photograph of Büchel Air Base
How Many US Nukes Are in Italy?
Italy, similarly, is a party to NATO's nuclear-sharing agreement. Deployed at the Aviano and Ghedi Air Bases, around 40 B61 nuclear bombs are assigned to the country's Air Force, ICAN states.