The Clinton Global Initiative (CGI) gathering scheduled for September is expected to bring together corporate leaders, Hollywood stars, and other celebrities with the aim to "address climate change, health care issues, gender-based violence, the war in Ukraine and a host of other issues."
The timing of the Clintons' September gathering hints at two probabilities: first, they are showcasing their talents just as Democrats need to find viable candidates to replace Biden; second, they may be salivating over a potentially mammoth rebuilding package in Ukraine, as Wall Street analyst Charles Ortel told Sputnik.
What is the Clinton Global Initiative?
In March 2022, the Clintons revived the CGI, which has long been suspected of being a vehicle for "pay-to-play" schemes by Bill and Hillary Clinton and personal enrichment of the political dynasty.
"For decades, the elder Clintons have not been able to resist milking purported charities for personal and political gain. A vivid example – 'Clinton Global Initiative' – was born in 2004 just around the time the Little Rock Presidential Center was opened to the public," Ortel, who has been investigating the Clintons' charities for around eight years, told Sputnik.
"The initial concept of having a grand, closed to the public, confab in New York, around the time of the UN Annual Meeting was actually inspired in principle, but grievously flawed in practice. Gathering globalists around world leaders and glitterati might have given rise to great philanthropy, had the Clintons and their advisors bothered to follow the laws and regulations in New York state and city pertaining to charities and to soliciting donations, but the parent Clinton Foundation and CGI thumbed their noses at these strict rules."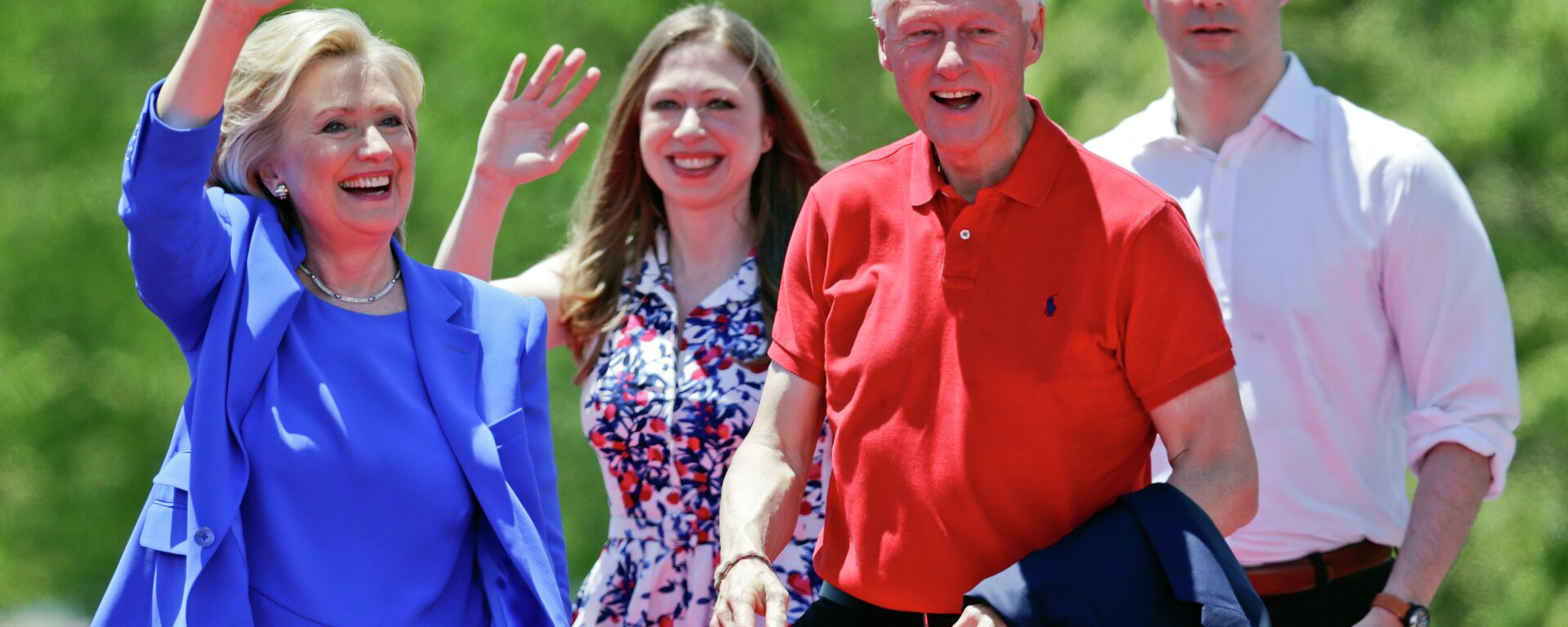 26 November 2019, 17:02 GMT
In his articles and interviews with various media outlets, Ortel has repeatedly drawn attention to obvious discrepancies in founding documents and financial records of the Clinton Foundation and its numerous offshoots. Per the Wall Street analyst, the Clintons were not just cutting corners: these errors and omissions could hint at nothing short of fraud and influence peddling by the famous political dynasty.
Remarkably, two forensic investigators-turned-whistleblowers, John Moynihan and Larry Doyle, who have been carrying out their own inquiry into the Clinton Foundation in parallel with Ortel, came to similar conclusions.
On December 13, 2018, Doyle and Moynihan testified before the House Oversight and Government Reform Committee, suggesting that the Clinton Foundation owes the US government between $400 million and $2.5 billion in taxes. According to the forensic investigators, the charity does not operate as a tax-exempt 501(c)(3) organization, but acts as a foreign agent. As such, the foundation should have registered under FARA (Foreign Agents Registration Act), which it never did.
Both Ortel and the Clinton Foundation whistleblowers Doyle and Moynihan suspect the Clintons of engaging in a pay-to-play game with foreign governments and tycoons, something which the Biden family has also been accused of by GOP congressional investigators.
"When you check public filings in New York state, you will see that neither the parent nor CGI bothered to register using legal or 'doing business as' names by 2005, validly explaining the tax-exempt purposes or results of CGI," said Ortel. "Yet, tens of millions of dollars were raised for CGI for meetings in 2005 through 2008, including one in Hong Kong in 2008, just after Barack Obama's selection of Hillary Clinton to serve as Secretary of State. Imagine if Donald Trump let Rex Tillerson's wife host an equivalent meeting in Hong Kong (if she and Rex had a charity) in December 2016?"
"Then, in 2009, Bill Clinton and his advisors allowed a false and materially misleading application for tax exemption to be filed with the IRS for 'Clinton Global Initiative, Inc.' Unlike filings by conservatives before Lois Lerner's IRS Department, the CGI filing, utterly false as it was, sailed through with swift approval," the Wall Street analyst continued.
Ortel highlighted that during Hillary's tenure as secretary of state and through the 2015/2016 election cycle, "CGI went from strength to strength." However, when Hillary lost the presidential race, support for CGI and for the parent and affiliates dried up, the analyst noted.

Do the Clintons Seek More Political Influence?
"Now, with Biden stumbling and in deep trouble for much smaller pay to play schemes, the Clintons seem to be showcasing their talents just as Democrats need to find viable candidates to replace Biden and his inept Vice President [Kamala Harris]," said Ortel.
In his previous interviews with Sputnik, the Wall Street analyst referred to an apparent behind the scenes struggle in the Democratic camp, with top Dems allegedly frustrated with both Joe and Kamala's blunders and failures. He suggested that the party would be much more comfortable with Michelle Obama at the helm.
For example, earlier this year ex-Secretary of State Clinton was quoted as saying that Harris wouldn't be able to win the Democratic primaries, if she tried, due to her
lack of "political instincts."
The botched
Ukrainian counteroffensive
and before that the US' botched
withdrawal from Afghanistan
on Biden's watch threaten to backfire on the Dems ahead of the 2024 presidential election, according to American observers. Soaring prices, expensive borrowing, and projected economic slowdown (and, probably, recession) may also reduce the Democratic Party's election odds.
Most of Sputnik's interlocutors have on multiple occasions expressed skepticism about a potential new presidential bid by Hillary Clinton, but Ortel has suggested that the Clintons could serve as a king- or queen-makers.
The Clintons' political fundraiser may signal that they are seeking more influence in DC, especially given that
National Security Advisor Jake Sullivan
is speculated to be a Clinton loyalist in Biden's camp.
Sullivan rose to prominence while being an advisor to then-presidential candidate Hillary Clinton in 2008. In 2009, he was sworn in as Hillary Clinton's deputy chief of staff for policy at the US State Department.
"Jake Sullivan has much to protect for himself given central roles he played working for Hillary at State and later in her 2016 campaign, likely pushing the Russia hoax," Ortel noted, citing Special Counsel John Durham's probe findings.
For his part, Pulitzer Prize-winning investigative journalist
Seymour Hersh
has repeatedly lambasted Jake Sullivan, as well as
Antony Blinken
and
Victoria Nuland
, for unprofessionalism. Per Hersh, Sullivan played the central role in assembling a "dream team"
to destroy the Nord Stream pipelines
in September 2022.
"Many years later, and looking ahead, Sullivan perhaps expects to become secretary of state, assuming Democrats actually win in 2024," Ortel said. "Should this happen, the Party of Perpetual War will continue with misadventures abroad and at home, benefiting only protected elites, which is a very grim thought."
What's Behind the Clintons' Interest in Ukraine?
According to Ortel, the Clintons have a long record of various initiatives in Ukraine as well as close ties with some Ukrainian oligarchs (most notably, Victor Pinchuk, the son-in-law of Ukraine's former President Leonid Kuchma) and politicians.
"The 'Clinton Foundation' has been illegally raising money, in theory, for HIV/AIDS projects in Ukraine since 2004 without seeking or obtaining approval for these efforts, as is required in advance, from numerous domestic and foreign government authorities. No outsider actually knows exactly what they have been doing for nearly 20 years in that ransacked remnant of a country," said Ortel.
"As a guess, the Clintons have good reason to expect that a mammoth rebuilding package will be part of an expected end to hostilities and they are positioning themselves, as they did in Haiti and India, to get close to the rebuilding capital pools that likely will be funded by the US and allies," the Wall Street analyst continued.
If the Clintons are indeed fixing for the rebuilding campaign in Ukraine, this may suggest that they believe that the end of Biden's "forever war" in the Eastern European state is near. Speaking to Sputnik on August 26, former Department of Defense officer David Pyne noted that Washington does not have enough resources and public support to turn its Ukraine campaign into a perpetual proxy war.
"It was clear before the many Trump indictments by hack Democrat partisans on flimsy grounds, that the American justice system protects Democrats and persecutes opponents of Democrats as well as opponents of unregulated globalism," the Wall Street analyst said.
"This is why 2024 is so important. If Democrats and RINOS prevail, insiders will stay safe and the looting of America's wealth and promise will continue for the benefit of dynastic families in both political parties. But if Trump wins 'bigly,' there will be a swift and pronounced reckoning in which many crooks will be brought to justice as America undoes so much damage wrought on private sector workers since 1988," Ortel concluded.