President Joe Biden told journalists Sunday that he's not looking to "contain China" as the White House announced a major upgrade to US-Vietnamese relations, including in the security sphere.
"Really what this trip is about, it's less about containing China, I don't want to contain China. I just want to make sure we have a relationship with China that is on the up and up, squared away, everybody knows what it's all about," Biden
said
, speaking at a press conference in Hanoi.
"And one of the ways you do that is you make sure that we are talking about the same things. And I think that one of the things we've done – I've tried to do…is we have an opportunity to strengthen alliances around the world to maintain stability. That's what this trip is all about. Having India cooperate much more with the United States, be closer to the United States, Vietnam being closer to the United States. It's not about containing China. It's about having a stable base in the Indo-Pacific," Biden said.
The president did not elaborate on what sort of "base" he was talking about.
The same principle applies to the Quadrilateral Security Dialogue, an Indo-Pacific pact formed in 2017 and including the US, Australia, India, and Japan, Biden said.
"For example, when I was spending a lot of time talking with President Xi, he asked why we were doing, why was I going to have the QUAD...And I said to maintain stability. It's not about isolating China, it's about making sure that the rules of the road – everything from airspace and space in the ocean and the international rules of the road are, are, are, are, are abided by. And so, and I hope that, I think that Prime Minister Xi, I mean Xi, has some difficulties right now…I want see China succeed economically, but I want see them succeed by the rules," Biden said.
The US and Vietnam formally elevated their relations to a Comprehensive Strategic Partnership on Sunday, with the White House releasing an
explanatory document
indicating that the new status would include a new semiconductor supply chain partnership, a science and technology research agreement, increased people-to-people ties in education, and deepened trade and investment ties in agriculture, loans, climate, human rights, health, rare earth minerals, and energy.
The strategic pact also highlights a US commitment to "deepen" security cooperation with Vietnam, including through the provision of nearly $9 million for programs and equipment "to build Vietnamese capacity to fight regional and transnational crime," and improve "maritime domain awareness, port facility security, cargo security, and…ability to counter illegal, unreported and unregulated fishing."
Finally, Washington also pledges to provide additional financial support to Hanoi in dealing with the legacy of the Vietnam War, including through a technology-led initiative to identify remains, a dioxin remediation initiative around the Bien Hoa Air Base area, $25 million for unexploded ordnance clearance, and USAID assistance to people born with severe disabilities thanks to US dioxin use.
Biden became a senator in 1972, toward the tail end of the Vietnam War. During the conflict, the US Air Force dropped nearly three times the tonnage of bombs that it had used in the European and Asian theaters of World War II combined, and wiped out the flora and fauna from across about six percent of Vietnam's total land area. The conflict killed up to 3.8 million Vietnamese, including two million civilians, as well as over 58,000 US servicemen, most of them draftees. Biden received five student draft deferments during the war, including a 1-Y class draft deferment in 1968, which freed him from service unless a national emergency was declared.
Washington has successfully taken advantage of tensions between Vietnam and China from the 1990s onward after the collapse of the Soviet bloc and the end of Hanoi's close alliance with Moscow. Disagreements between the two communist nations over control of islands and waters in the South China Sea have allowed the US work to try to incorporate Vietnam into its wider strategy to "contain" China through a string of alliances and security partnerships across the regions, from the Philippines, Taiwan, and South Korea to Japan. The approach, known as the "Island Chain Strategy," was first unveiled by former Secretary of State John Foster Dulles in the early 1950s.
© Sputnik
US bases surrounding China part of the so-called Island Chain strategy.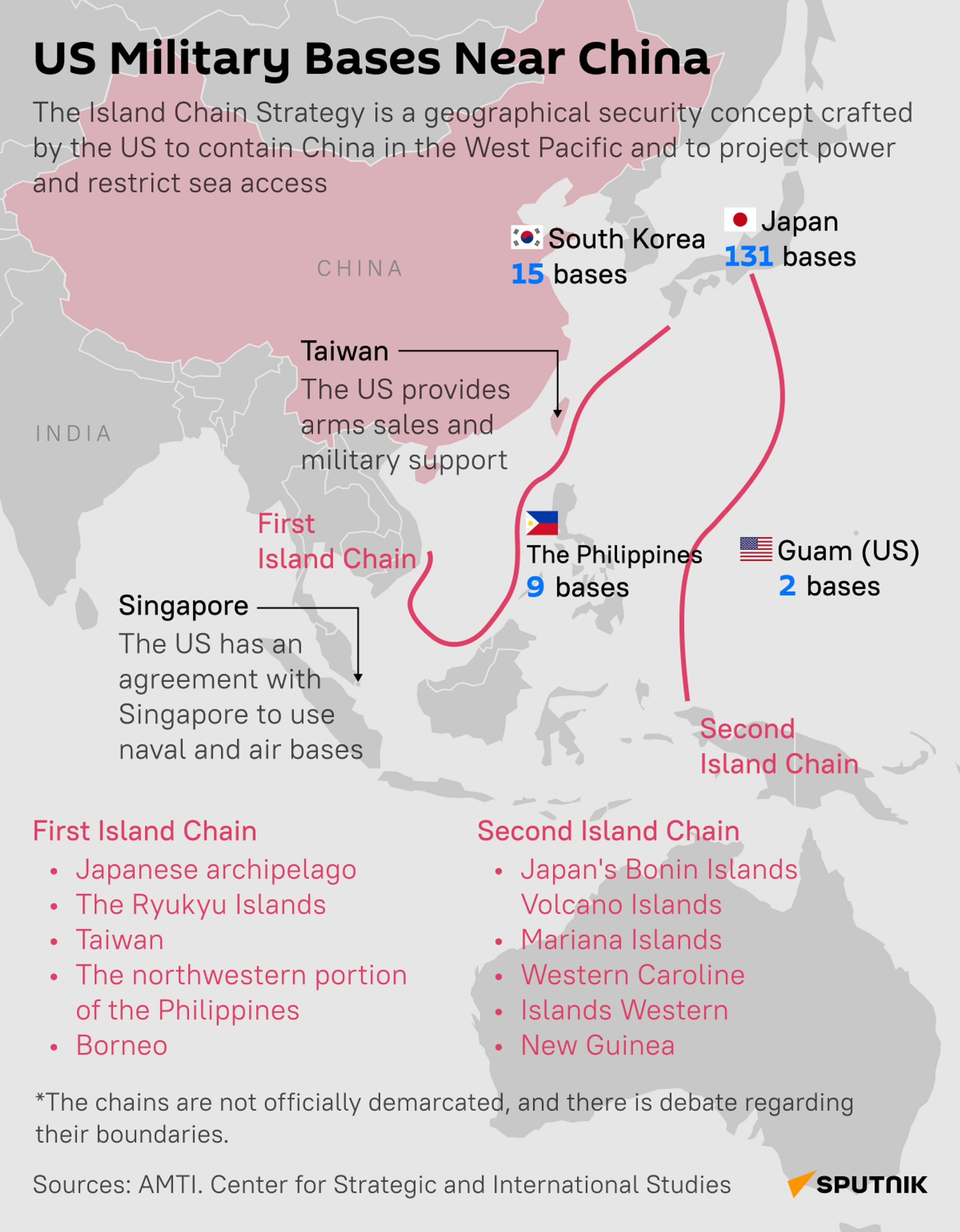 US bases surrounding China part of the so-called Island Chain strategy.