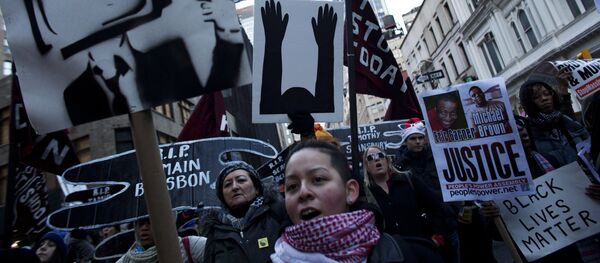 14 December 2014, 21:15 GMT
MOSCOW, December 18 (Sputnik) — Civil rights
protests
over the killings of unarmed African-Americans by white police officers — mostly peaceful, but sometimes getting out of hand — have prompted
US
law enforcement officials to respond in kind.
Over the last several days, hundreds of thousands people gathered in major US cities, and more than a hundred were arrested in Boston, Oakland, Durham and New York.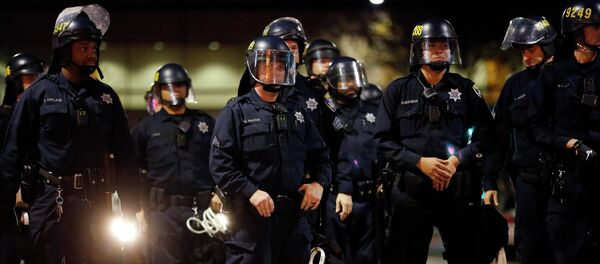 14 December 2014, 19:25 GMT
In a noted departure from the rule, the only site free of arrests happened to be Washington, where an estimated 25,000 demonstrators were led by civil rights leader Rev. Al Sharpton and families of racial profiling's latest victims — Michael Brown and Eric Garner.
On July 19, a bystander videotaped white police officer Daniel Pantaleo, applying a banned chokehold on Eric Garner for selling untaxed cigarettes. The 43-year-old Staten Island native died from suffocation a few minutes later. In Ferguson, Missouri, off-duty police officer Darren Wilson shot and killed 18-year-old Michael Brown on August 9. Both incidents set off a series of massive nationwide demonstrations.
"Don't let no provocateurs get you out of line," the reverend urged the crowd that exceeded initial estimates by 20,000 on Saturday. His calls appeared to have been heeded, though some participants expressed disappointment over the lack of "action" in the march.
DIFFERENT TACTICS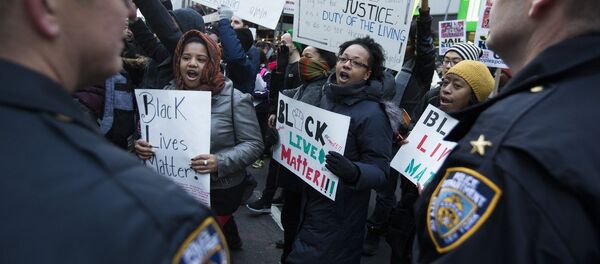 14 December 2014, 01:08 GMT
Although Massachusetts State Police arrested 23 people in Boston for attempting to block an interstate highway on December 13, local officers used a less violent approach. Instead of riding armored vehicles wearing riot gear, Cambridge and Boston city police faced crowds in regular uniforms and neon vests.
"We set the tone where we're going to use as much restraint as possible," Boston Police Commissioner William Evans was quoted by the Boston Globe. He stressed that "if you look like you're ready for a fight… you're going to get one."
That appeared to be the case in Oakland, where 25 demonstrators were arrested for chaining themselves to police headquarters entrance Monday. The latest clashes came on top of 45 arrests Saturday over charges that included resisting arrest, failure to disperse and vandalism.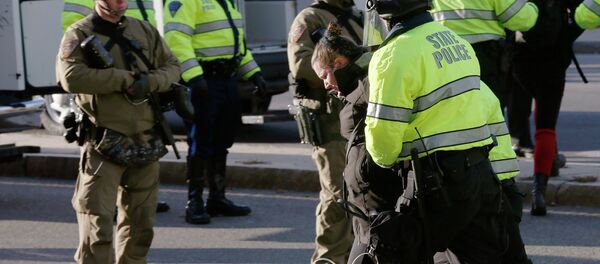 14 December 2014, 00:35 GMT
"There is a war on black people and the police are the army in that war," organizer Cat Brooks was quoted as saying by various local media outlets. Footage of the arrests showed officers in riot gear cutting chains with bolt cutters. Meanwhile, the group released demands, which among other things included demilitarizing the police.
In Durham, North Carolina, 11 protesters were arrested near a major freeway on Saturday, bringing the citywide tally up to 42.
BACKLASH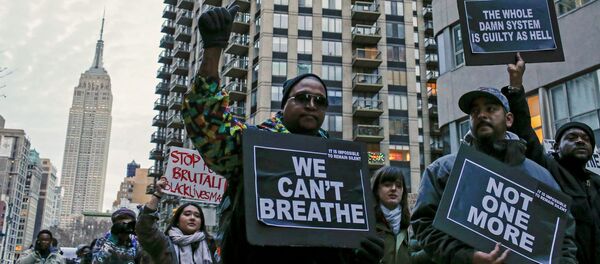 13 December 2014, 23:17 GMT
In contrast to Oakland, it was police riot in New York City that blocked entrances to police headquarters over the weekend. There, the hands-off approach did not appear to work as it did in Boston and Cambridge. Two NYPD officers were reportedly assaulted on the Brooklyn Bridge, prompting the department to announce a reward in search of seven suspects, caught on video on Tuesday.
"We do not take attacks on our police officers lightly — never have, never will," Commissioner Bill Bratton was quoted by a local CBS station on Tuesday.
Meanwhile, as nationwide demonstrations petered out since the grand juries handed down decisions not to indict white police officers that fatally shot Michael Brown and choked Eric Garner to death, #BlackLivesMatter slowly lost momentum to the emerging #CopsLivesMatter.