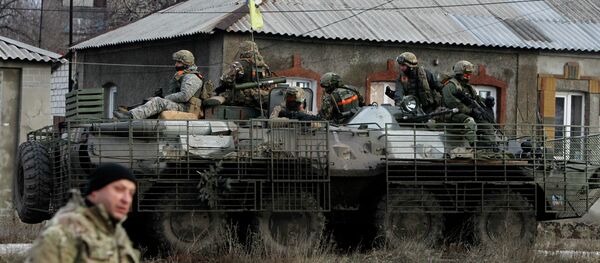 19 February 2015, 06:51 GMT
DONETSK (Sputnik) – The east Ukrainian self-proclaimed Donetsk People's Republic is prepared to hand over the bodies of up to 3,500 Ukrainian soldiers killed during battle in Debaltseve, DPR leader Alexander Zakharchenko said Thursday.
"We have finished cleansing the Debaltseve area from illegally armed formations. Unfortunately, the Ukrainian authorities didn't accept the words of wisdom to lay down weapons. Between 3,000 and 3,500 Ukrainian military personnel were killed during the surrounding [of Debaltseve]," Zakharchenko was quoted as saying by the Donetsk Information Center.
He added that Kiev could collect the bodies of its soldiers.
"We have invited the relatives and mothers of the Ukrainian military to [Debaltseve] to collect their soldiers," he said.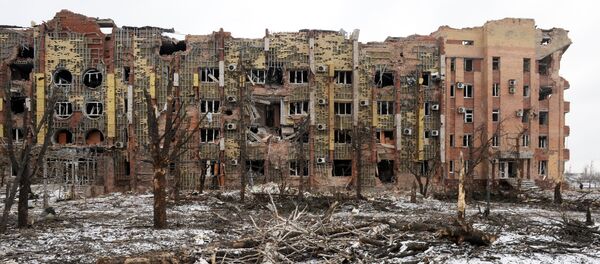 19 February 2015, 07:20 GMT
A DPR representative, Denis Pushilin, was reported as saying earlier in the day that fighting for control of the strategic transport hub at Debaltsevo on the border with the Luhansk region had killed thousands of Ukrainian troops.
Pushilin blamed their deaths on the ignorance of the Ukrainian government, saying militias had sought to negotiate a deal with Kiev "to save the lives of thousands of Ukrainian soldiers" encircled near Debaltsevo, "but Kiev did everything possible to brush this off by saying that the situation was under control."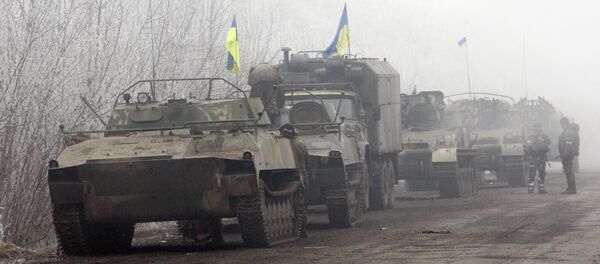 18 February 2015, 20:23 GMT
On Wednesday, Ukrainian President Petro Poroshenko said that all troops reportedly trapped near the town had withdrawn from the area by Wednesday morning, denying the militia claims that the troops had started surrendering.
This came after Donetsk militias announced on Wednesday that they had completely encircled the town, with DPR's deputy militia commander Eduard Basurin saying that groups of Ukrainian troops were still scattered around the area.