In Sept. 2012, Netanyahu stood before the UN General Assembly with a cartoonish diagram of a bomb and warned that Iran was about a year away from completing its "plans of building a nuclear weapon," calling for action to halt the process and justifying Israel's rights to act militarily if necessary.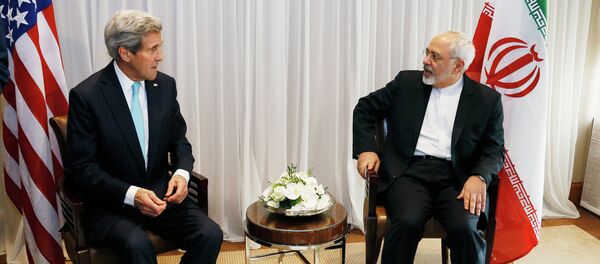 23 February 2015, 16:45 GMT
"By next spring, at most by next summer, at current enrichment rates, they will have finished the medium enrichment and move[d] on to the final stage," Netanyahu told the UN. "From there, it's only a few months, possibly a few weeks before they get enough enriched uranium for the first bomb."
But in Oct. 2012, Israel's intelligence agency Mossad sent a top-secret cable to South Africa's state security agency saying that the Islamic Republic was "not performing the activity necessary to produce weapons and doesn't appear to be ready to enrich Uranium to the higher levels needed to the nuclear bomb," according a secret cable obtained by Al Jazeera and shared with the Guardian.
US intelligence found no evidence that Iran intended to use its nuclear infrastructure to build a bomb.
The report highlights the gulf between the alarmist tone in rhetoric taken by top Israeli politicians and the assessments of Israel's military and intelligence apparatus, according to the Guardian.
16 February 2015, 12:14 GMT
The leaked documents also revealed details of operations against al-Qaeda, the Islamic State and other terrorist organizations.
Among the information leaked is a CIA attempt to establish contact with Hamas, South Korean intelligence targeting the leader of Greenpeace, Barack Obama "threatening" the Palestinian president to withdraw a bid for recognition of Palestine at the UN, and South African intelligence spying on Russia over a controversial $100 million joint satellite deal, according to the Guardian.
It comes at a time when political tensions between the US and Israel are at a record high, and ahead of Netanyahu's planned address to the US Congress on March 3 to speak against the nuclear compromise currently being negotiated between Tehran and world powers.