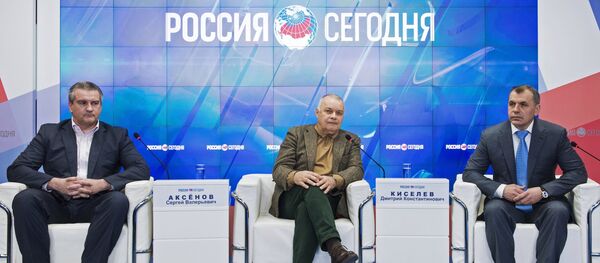 Wrapping up his three-day tour of Crimea, Former Japanese Prime Minister Yukio Hatoyama noted that he hopes more Japanese will come to Crimea to get a sense of the reality of the situation on the peninsula.
Speaking at a press conference in Moscow with Russian Duma Speaker Sergei Naryshkin on Friday, Hatoyama noted that "in Japan there is a saying –that seeing once is better than hearing a hundred times. I understand that in Russia there is a very similar saying. I think that this is a natural way of thinking, and the chance to be convinced of something with one's own eyes exceeds a hundredfold the value of hearing about it from someone else," Hatoyama noted.
The politician added that he became convinced over the course of his visit that the real situation on the ground in Crimea is completely different from that being reported in Japanese media, which takes its cues from the Western media.
"During my visit, I became convinced that the real situation [in Crimea] differs very greatly from the way it is portrayed in the media in my country; this gap is really quite large," Hatoyama noted, adding that he regrets that the vast majority of ordinary Japanese remain unaware of the situation on the peninsula.
"Under these circumstances, it would be right for more Japanese from different walks of life to visit Crimea. This applies particularly to journalists, who could personally verify the facts surrounding the events," Hatoyama noted.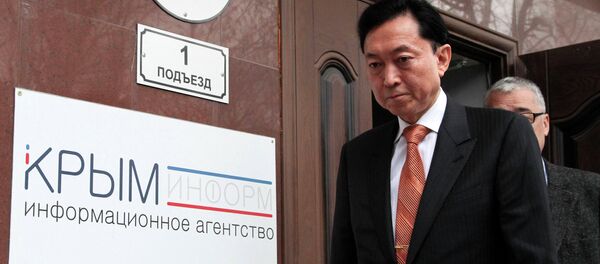 For his part, Naryshkin thanked Hatoyama for his stance against Japan's sanctions policy against Russia. "I am very grateful for your calling upon the Japanese government to refuse these unlawful anti-Russian sanctions, for your calls to abandon the use of this mechanism against our country," the Duma Speaker noted.
In the course of his visit, Hatoyama noted that he has become convinced that the Crimean referendum in March, 2014 to split off from Ukraine and join Russia was in line with both the Ukrainian Constitution and the norms of international law. He also reiterated his view that Japan should reject its sanctions policy as a first step toward improved relations with Russia.
Japan's ex PM Hatoyama: Japan should renounce it's policy of sanctions against Russia http://t.co/V3nAZp0Czg #Crimea pic.twitter.com/wGnx3nEd5h

— the Lemniscat (@theLemniscat) 12 Март 2015
Japanese officials and political figures have harshly criticized Hatoyama's visit, Liberal Democratic Party Vice President Masahiko Komura noting that it could be construed as "misleading to the international community." Chief Cabinet Secretary Yoshihide Suga said that the visit was "an extremely thoughtless move, which is deeply regretful." Senior LDP politician Takashi Fukaya even argued that the visit was akin to "treason," and suggested that Japanese authorities take away Hatoyama's passport.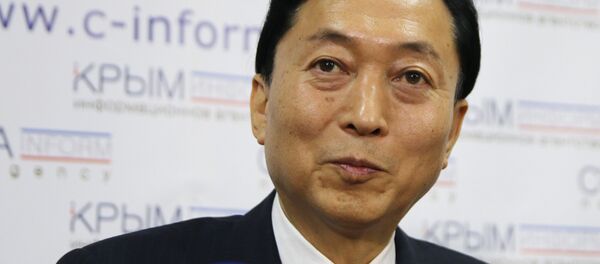 Responding to the threat, Hatoyama noted that he would not exclude the possibility of setting up residence in Crimea if authorities were to take such a step.
Hatoyama, a Democratic Party politician who served as Prime Minister between September 2009 and June 2010, has long called on his country to carry out a foreign policy more independent from that of the United States. He resigned as Prime Minister in 2010, citing a failure to close a scandal-prone American military base on the island of Okinawa.
Japan does not recognize the results of the referendum of March 2014 which saw Crimea break off from Ukraine and join Russia. It was among the countries imposing several rounds of sanctions against Russia, postponing talks on investment, collaboration in space research, and plans for a simplified visa regime.