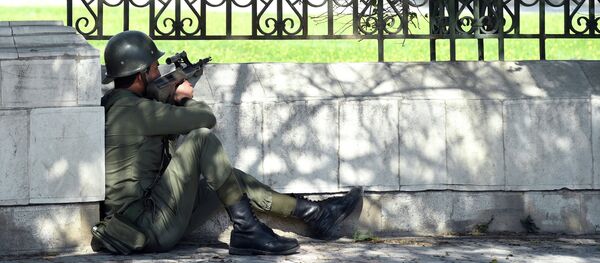 MOSCOW (Sputnik) — Nine suspects have been arrested in Tunisia in the wake of the deadly attack on the Bardo Museum in the capital of the country, Tunisian President Beji Caid Essebsi's press service said Thursday.
"Security forces have managed to arrest four people [on suspicion of being] directly involved in the attack. Another five were arrested on suspicion of having links with the cell," the official statement said.
Earlier in the day, Tunisian Prime Minister Minister Habib Essid told the French radio station RTL that national security services had known of one of the two gunmen behind Wednesday's museum shooting prior to the attack.
The two attackers killed during the museum siege were identified as Yassine Labidi and Saber Khachnaoui. The former had been previously "reported and monitored," according to the prime minister.
At least 20 foreign tourists and three Tunisian citizens were killed, and some 40 people were injured after the two gunmen opened fire at the Bardo museum in the capital city of Tunis, the BBC said Thursday, citing the Tunisian government's figures.
The attack has been officially condemned by the United Nations and a number of countries, including Russia and the United States.