A two-day fighting in Macedonia's town of Kumanovo raised serious concerns in the EU and NATO as Macedonia has been an EU candidate country for ten years and is also seeking membership in NATO. NATO Secretary General Jens Stoltenberg urged all stakeholders to work together to restore peace and security in the country, German media reported
At least 22 people have been killed in a large-scale police operation against a group of armed men.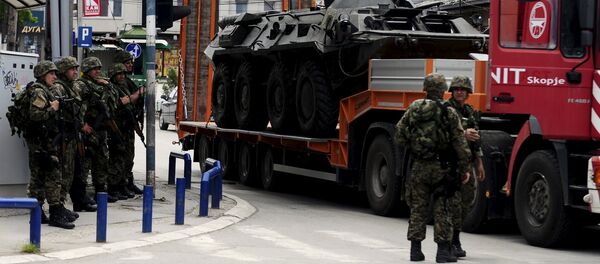 The raid started on Saturday morning, with the police evacuating buildings and searching house by house in neighborhoods predominantly inhabited by ethnic Albanians. The operation was launched as a group of about 40 armed men was suspected of planning a "terrorist attack" on government institutions and civilians.
Eight policemen were reportedly killed and 37 officers injured during the two-day raid. On the side of opponents at least 14 people were killed and 30 arrested, according to a statement by Prime Minister Nikola Gruevski.
As result of the armed clashes, many residents left the town and fled to neighboring Serbia.