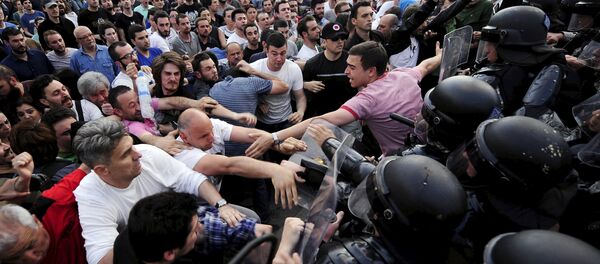 The issue of ethnic tension within Macedonia has gained global headlines after eight police officers and 14 others were killed during a two-day shootout between police and what the Macedonian government described as an armed paramilitary group of ethnic Albanians in the northern city of Kumanovo.
The incident is the latest and bloodiest in a string of clashes between Macedonians and ethnic Albanians, who make up approximately 30 percent of the country's population.
These deaths have once again raised fears of rising ethnic tensions and concerns that the country may be heading for another civil war, similar to one fought between Macedonian forces and Albanian paramilitary groups in 2001.
Fear of 'Greater Albania'
Many analysts suggest that central to the conflict is the idea within Macedonia and other Balkan states that ethnic Albanian groups are aiming to create a 'Greater Albania' as part of expansionist ambitions.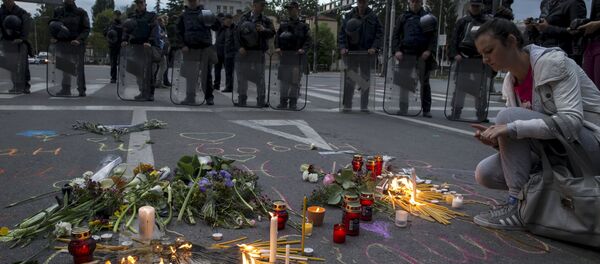 Although Albanian officials have dismissed the concept, there has been a heightened concern of potential Albanian expansion, particularly after Prime Minister Edi Rama recently said the unification of his country and the former Serbian province of Kosovo — which has a majority Albanian population — was "inevitable."
Political analyst Andrew Korybko told Sputnik that the mistrust and division between Albania and other states in the Balkans was exacerbated by the late 1990s US and UK-led intervention in the region.
He said that the West's decision to take sides in the conflict and back Albanian groups has further destabilized the region and spurred on ethnic tensions.
"The important thing to understand here is that it [NATO intervention] showed outside support for Albanian separatism, and afterwards, all Albanians."
Korybko also says the decision to protect the Macedonian state during the conflict, and further negotiate a generous agreement for Albanian groups, following the 2001 Macedonian war, was a strategic move by the West, aimed at trying to increase their influence in the area.
"Macedonia was purposely kept from the brink of disintegration so that the ethnic explosion [of violence] could be externally activated at a future time if need be."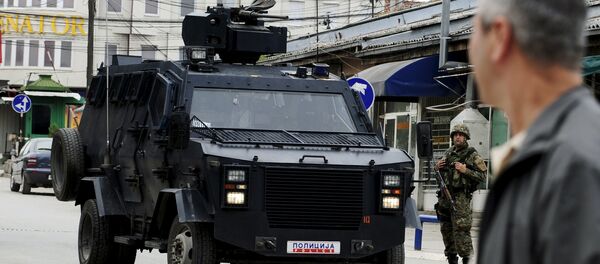 The Global Energy Game
Just why western powers would want to leave the option of 'Greater Albania' open and further destabilize countries in the Balkans is down to greater geopolitical games, analysts say.
Dusan Prorokovic, an expert in Balkan affairs told Sputnik that the recent trouble in Macedonia has been stirred up to try and prevent the creation of the proposed 'Turkish stream' project, which plans to transport Russian gas to Europe via Turkey and the Balkans.
"The concept of Greater Albania is once again relevant but it won't see any progress without the help of the North Atlantic bloc. I think why all of that happened is more linked to the "Turkish stream" and the defeat of the US in Ukraine, than to local Albanian interests."
Andrew Korybko agrees, saying:
"Greater Albania is a geopolitical tool to be deployed in stopping not only Russia's Balkan Stream pipeline [northern extension of the Turkish stream] but also China's Balkan Silk Road."
A Political Problem, Not an Ethnic One
Despite fears of another ethnic conflict in the country, others are quite skeptical about the motives of the recent clashes, amid suggestions the conflict may have been staged by Skopje to draw attention away from the country's political problems.
"I think we've got to be careful about this idea that this is necessarily an ethnic problem. What we have essentially in Macedonia is a political problem at the moment," said Dr James Ker-Lindsay, researcher in Balkan studies at the London School of Economics.
Dr Ker-Lindsay says that a recent report of government malpractice and widespread spying on Macedonian citizens has culminated in sizeable protests and dissatisfaction with Prime Minister Nikola Gruevski and his government.
This has led to suggestions that the recent gunfight was merely a planned incident by Skopje, aimed at stirring up ethnic tension and acting as a smokescreen for the government's current problems.
"At first, public opinion was all a bit skeptical about this, but as the revelations keep coming out, people are starting to turn against the government. There has been a couple of major demonstrations recently. What does all this mean? Well, hey suddenly, out of the blue, we have this incident on Saturday in Kumanovo. Essentially what has happened is that a lot of people in Macedonia are saying 'this is just all becoming a bit too convenient'," Dr Ker-Lindsay told Sputnik.
"The danger of the situation is that we know small things can lead to big problems, and that's what makes the current crisis so dangerous… It doesn't take a lot to flip people over on both sides of the ethnic divide and lead to something so much more serious, and I think, this is the real worry. It's not an immediate concern, this ethnic violence, but you never know what might happen."